Should A Parent Have The Power To Force Sterilization Of Their Developmentally Disabled Child?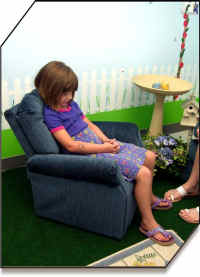 As individuals we have certain inalienable rights, granted to us by the Constitution.  The right to own a gun, the right to vote, the right of free speech . . . the list goes on and on.  Among those rights that we as U.S. citizens enjoy, is the right to parent as we see fit (subject to certain exceptions, of course).  Parents are generally allowed to make important decisions on behalf of their minor children.  Examples include, what type of food the child eats (vegan, gluten free, organic, etc.), what type of school the child will attend (public school, private school or home-school) and whether or not the child will be vaccinated.  In addition, parents are charged with deciding how to discipline their children and what organized religion, if any, they will be raised in.  Whether or not parents realize it, the decisions they make today will affect their children for the rest of their lives.
But what if parents DID realize that a choice they were making was going to have an enormous effect on their child's life? What if a choice they made essentially took away a major life decision that the child would normally make on their own as an adult?
Suppose that a couple has a minor child who is developmentally disabled to the point that the child will likely never be self-sufficient.  Suppose again that this child's parents seek to have their child undergo an operation so that he or she is unable to have kids of their own in the future.  Should parents have this power?
The United States Supreme Court has held that the right to procreate is fundamental in nature.  However, whether this right extends to individuals lacking mental capacity is a question that states have struggled with. Generally speaking, a procedure can be performed that would render a developmentally disabled person sterile, so long as the individual's due process rights are protected along the way. That being said, different states have different ideas about what exactly protecting these rights entails.
In order for a parent or guardian to make such a decision, some states require that a court order be issued before the operation can be performed; others require that some type of hearing process be held.  Some go even further and demand that the patient be declared mentally incompetent before a parent or guardian can make that call on their behalf.
Ohio Has No Case Law Detailing How A Parent Can Force Sterilization Of Their Developmentally Disabled Minor Child
Generally speaking, in Ohio there are no laws regarding whether or not a parent of a developmentally disabled minor can request and/or consent for their child to receive a hysterectomy or vasectomy.  Ohio Revised Code Section 5123.86 discusses the rights of a "resident" of a mental institution within the state, outlining how informed consent for sterilization can be legally obtained for such people.  However, there is virtually no recent guidance or case law detailing how, or even if, a parent can force their child who is not in an institution to have such procedure. Because there is no law on point, providers can reach different conclusions when faced with these cases. Even so, it is unlikely that the sterilization of a minor child would take place without the medical and legal communities ensuring that the patient's best interests and rights are protected.
© 2016 – 2018, Ohio Family Law Blog. All rights reserved. This feed is for personal, non-commercial use only. The use of this feed on other websites breaches copyright. If this content is not in your news reader, it makes the page you are viewing an infringement of the copyright.

About The Author: Robert L. Mues
Robert Mues is the managing partner of Dayton, Ohio, law firm, Holzfaster, Cecil, McKnight & Mues, and has received the highest rating from the Martindale-Hubbell Peer Review for Ethical Standards and Legal Ability. Mr. Mues is also a founding member of the "International Academy of Attorneys for Divorce over 50" blog. Mr. Mues has also been a dog owner for 55+ years, and just recently, he and his wife are the owners of "Ralph", a rescued mixed Wire Hair and Jack Russell Terrier.
Parent Issues: Can a Parent Force the Sterilization of Their Minor Child?