Parents Could Be Held Liable For Their Child's Wrongdoing. A Look At 5 Areas Parental Responsibility Laws Regulate In Ohio
Parents Take Note – You Could Be Liable For The Actions of Your Children!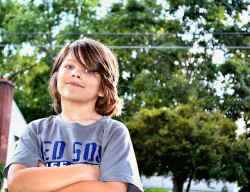 The answer to that question is "It depends on the facts".  There are five (5) general areas that parental responsibility laws in Ohio regulate.
PERSONAL INJURY BY ASSAULT: In Ohio, a parent can be sued civilly and held liable for the willful assault of their minor child if the force is likely to produce great bodily harm. This liability does not extend to accidental injuries. The parents liability is limited to $10,000, plus court costs. See O.R.C. Section 3109.09.
PROPERTY DAMAGE & THEFT : A parent (or legal guardian) can be liable, just as in number 1 above, for up to $10,000, plus reimbursement of the claimant's cost of taking the matter to court, if a minor in the parent's custody willfully damages property belonging to another. This law focuses on property damage as well as theft. If the judgment arises out of a school incident, the court may by agreement order the parent to perform community service in lieu of making full payment on the judgment. The amount of the judgment and required hours of community service would need to be specified.
DRIVING:  A parent needs to think twice about signing the driver's license application or permit for their child. In Ohio, if a minor child commits an act of negligence, or willful or wanton misconduct, while driving a motor vehicle, the adult who signed the minor's application may be held financially responsible for the resulting damage. This liability can be avoided if the parent who signed the document properly has obtained  auto insurance covering the child. See, O.R.C. Section 4507.07.
LIABILITY FOR VANDALISM, DESECRATION OR ETHNIC INTIMIDATION: There are some situations where the liability limits on parents can be lifted. If a minor child commits willful acts of vandalism, desecration, or ethnic intimidation, the person who suffers the loss can seek recovery from the offender's parents up to $15,000, plus reimbursement of court-related expenses and attorney's fees. See, O.R.C. Section 2307.70.
NEGLIGENT SUPERVISION OF YOUR CHILD: Ohio common law also imposes liability on parents in situations independent of the above referenced statutes. Typically, these common law holdings handed down over the years — parents and guardians can be deemed negligent for failing to adequately supervise their minor children. This would apply if the parent has reasonable information to believe that their child has a likelihood to act in a dangerous or reckless manner.  The common law in Ohio requires parents to take reasonable steps to prevent their child from causing foreseeable harm to others.
CONCLUSION: The purpose of laws assigning parental liability for harm caused by a minor's misconduct is: 1.) to compensate victims and, 2.) to encourage parental responsibility. Children do not generally have the financial resources sufficient to compensate injured parties for the damage they cause. Ohio law assigns liability to parents so that victims of a child's wrongdoing receive at least some compensation.
Parental Liability Laws Encourage Parents To Properly Supervise Their Children And To Avoid Liable Court Actions
Additionally, the parental liability law is based on the goal of encouraging parents to properly supervise and exercise control over their children. Parents have the duty to reasonably supervise their children, and states have an interest in protecting the public welfare by holding parents responsible when they fail in their duties. If the parents can be held financially liable for their children's wrongdoing, the potential for liability may encourage them to be more responsible parents.
This legal area can be tricky. If you have been injured by a child's wrongdoing, contact an attorney to help you better understand how to recover compensation for your losses.
© 2017 – 2018, Ohio Family Law Blog. All rights reserved. This feed is for personal, non-commercial use only. The use of this feed on other websites breaches copyright. If this content is not in your news reader, it makes the page you are viewing an infringement of the copyright.

About The Author: Robert L. Mues
Robert Mues is the managing partner of Dayton, Ohio, law firm, Holzfaster, Cecil, McKnight & Mues, and has received the highest rating from the Martindale-Hubbell Peer Review for Ethical Standards and Legal Ability. Mr. Mues is also a founding member of the "International Academy of Attorneys for Divorce over 50" blog. Mr. Mues has also been a dog owner for 55+ years, and just recently, he and his wife are the owners of "Ralph", a rescued mixed Wire Hair and Jack Russell Terrier.
In Ohio, Might You Be Liable for the Actions of Your Children? You Might be Surprised!