How Does The New Shared Parenting Law Signed In Kentucky Impact Ohio?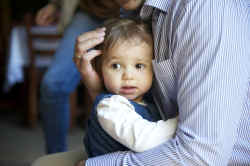 Kentucky took a step closer on April 12, 2017 to making shared parenting in instances of divorce the norm in the state.  House Bill 492, received unanimous support in both the House and Senate.  The new law was also supported by an overwhelming amount of research showing it is in a child's best interest to have as close to equal time with both parents in instances of divorce, particularly early on in the process.
"Children are now more likely to see both parents regularly after a divorce, which is a huge win for the children of Kentucky considering research consistently shows shared parenting is in the best interest of children when their parents divorce," said Matt Hale, Chair of National Parents Organization of Kentucky. "Plus, parents are no longer in the high-conflict winner win all and loser lose all situation".
The new law amends KRS 403.280, allowing a court to adopt a prior parental temporary custody agreement as the court's temporary custody order. However, the agreement must be mutually agreed upon while adequately providing for the child's welfare. The new law also creates a temporary joint custody and equal parenting time presumption provided each parent files an affidavit requesting his or her portion. The equal parenting time presumption does not apply if it creates a likelihood of abuse or neglect.
At present, no similar bill is pending in Ohio. While Shared Parenting is an option for parents and Ohio Courts, it is NOT the presumed default or typical temporary custody arrangement. Note that the Kentucky law requires the mutual agreement of both parties – so there lies the obvious" rub" in divorce cases which are contentious more often than not.
In 2014, National Parents Organization released the Shared Parenting Report Card, the first study to rank the states on child custody laws. You can visit the National Parents Organization website at www.nationalparentsorganization.org.
Ohio Ranks Average In Shared Parenting and Divorce Custody Law
Ohio received a C- on that report card, primarily for these reasons:
Ohio has no statutory preference for, or presumption of, shared parenting (joint legal custody and shared physical custody) for temporary or final orders.
Ohio statutes do not explicitly provide for shared parenting during temporary orders.
Ohio statutes do not require courts to consider "friendly parent" factors in awarding custody.
Ohio statutes do not mandate that a court award shared parenting even in a case where the court finds that the submitted shared parenting plan is in the best interest of the children. The language of the statute is permissive ("the court may") not mandatory ("the court shall"). OHIO REV. CODE ANN. § 3109.04
I found the data included with the Kentucky law press release, in and of itself, to make publication of this blog article worthwhile in my opinion.  Here it is:
"RECENT RESEARCH: SHARED PARENTING VERSUS SINGLE PARENTING
Shared Parenting Data
In December, 2016, The American Psychological Association published research by William V. Fabricius of Arizona State University in the journal Psychology, Public Policy and Law titled, "Should Infants and Toddlers Have Frequent Overnight Parenting Time With Fathers? The Policy Debate and New Data."  Prof Fabricius' findings provide "… strong support for policies to encourage frequent overnight parenting time [up to and including 50/50 overnights -Ed] for infants and toddlers [even younger than one year -Ed], because the benefits [for children-Ed] associated with overnights also held for parents who initially agreed about overnights as well as for those who disagreed and had the overnight parenting plan imposed over 1 parent's objections." Fabricius will share details on his findings during the International Conference on Shared Parenting 2017, a May 29-30, 2017 event in Boston, hosted by National Parents Organization and the International Council on Shared Parenting.
The Journal of the American Psychological Association published a paper titled "Social Science and Parenting Plans for Young Children: A Consensus Report" in 2014, and the conclusions were endorsed by 110 eminent authorities around the world. Authored by Dr. Richard Warshak at the University of Texas, the paper concluded, "… shared parenting should be the norm for parenting plans for children of all ages, including very young children."
In 2016, Dr. Warshak wrote, "Two years after its publication, the conclusions and recommendations of the Warshak consensus report remain supported by science." He also wrote, "The paper has been translated into at least eighteen languages and has informed legislative deliberations throughout the U.S. and parliamentary deliberations in several countries including the United Kingdom, Canada, Israel, Finland, Romania, Croatia, and Sweden. Two years after its publication, the consensus report continues to be one of the most downloaded papers from the journal's website." He added, "The list of endorsers and their stature and accomplishments reflect the field's general acceptance of the consensus report's findings as rooted in settled science from more than four decades of research directly relevant to this topic, including seminal studies by many of the endorsers."
The Journal of Epidemiology & Community Health published a 150,000-person study titled "Fifty moves a year: Is there an association between joint physical custody and psychosomatic problems in children?" in 2015 that concluded shared parenting after divorce or separation is in the best interest of children's health because the arrangement lowers their stress levels.
The Association of Family and Conciliation Courts (AFCC) published the recommendations of 32 family law experts in 2014, and the group concluded, "Children's best interests are furthered by parenting plans that provide for continuing and shared parenting relationships that are safe, secure, and developmentally responsive and that also avoid a template calling for a specific division of time imposed on all families."
Single Parenting Data
According to federal statistics from sources including the U.S. Centers for Disease Control, the U.S. Department of Justice and the U.S. Census Bureau, children raised by single parents account for:
63% of teen suicides;
70% of juveniles in state-operated institutions;
71% of high school drop-outs;
75% of children in chemical abuse centers;
85% of those in prison;
85% of children who exhibit behavioral disorders; and
90% of homeless and runaway children."
Divorce and Family Law Attorney Crucial In Shared Parenting and Custody Cases
Despite the less than stellar grade, Ohio does have some progressive Judges who strongly encourage Shared Parenting Orders. Obtaining the assistance of an experienced divorce/family law attorney is an important first step to improve the likelihood of the Court Ordering Shared Parenting in your divorce case!
© 2017 – 2018, Ohio Family Law Blog. All rights reserved. This feed is for personal, non-commercial use only. The use of this feed on other websites breaches copyright. If this content is not in your news reader, it makes the page you are viewing an infringement of the copyright.

About The Author: Robert L. Mues
Robert Mues is the managing partner of Dayton, Ohio, law firm, Holzfaster, Cecil, McKnight & Mues, and has received the highest rating from the Martindale-Hubbell Peer Review for Ethical Standards and Legal Ability. Mr. Mues is also a founding member of the "International Academy of Attorneys for Divorce over 50" blog. Mr. Mues has also been a dog owner for 55+ years, and just recently, he and his wife are the owners of "Ralph", a rescued mixed Wire Hair and Jack Russell Terrier.
Shared Parenting: Kentucky Governor Signs New Law, Is Ohio Behind the Times?