"The Ohio Family Law Blog has continuously been posting information about divorce and family law topics since 2007. We are frequently asked about articles in our archives. So that got us thinking, perhaps it might be fun to occasionally repost a "Blast From The Past"…SO, IT'S BLAST OFF TIME!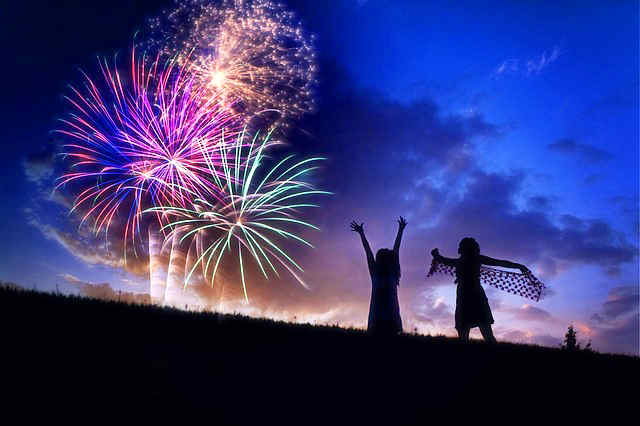 It seemed appropriate that I should write something for the family law blog geared towards the "Birthday of America". In the past, I liked to reflect upon the holidays and tried to find some correlation between the specific holiday and my family law practice. Not always an easy task without becoming repetitive in discussing how to celebrate the day in the aftermath of a traumatic divorce.  So, as I pondered possible themes, I considered offering a bit of a twist on "Independence Day". Or, perhaps, writing a patriotic post about America and the importance of family values.  In the end, I decided to go in a different direction.
As I think about this holiday, it brings back many fabulous memories. As a child, it was in my top two or three yearly holidays. I loved that it was the official start of summer and school was over. Warm weather was here and a family vacation was near. Having grown up in New Jersey, I loved cookouts with family, seeing friends at the pool, or even better, going "down the shore". Riding the waves, salt water taffy, the boardwalk, and of course, sunburn.
Family Law Attorney Chip Mues Recalls A Remarkable 4th of July Vacation Set In Maine
Being 55 years old, I remember fireworks galore exploding in ways that were not safe in light of today's standards. And I mean having to smack out live embers which landed in your hair or your lap. Oh, what memories…So you ask, what does the title of this post have to do with anything? Well, I will tell you. Now the greatest 4th of July memory for our family is synonymous with one particular Independence Day. Not at the Jersey Shore this time, but a trip to another of my childhood favorites – North Waterford, Maine, and the Five Kezar Lakes. Frog gigging, fishing, bonfires, fresh lobsters, water skiing and swimming in the pristine, crystal-clear lakes. Absolutely remarkable!
While the serene natural pine tree-filled Maine environment is remarkable, it did not compare to the events of this one particular 4th of July evening.  My sons were probably 11 and 12 years old at the time. After a great day outdoors with our family, cousins, and my Aunt and Uncle, we drove to the Oxford Plains Speedway in Oxford, Maine. Not our family's usual activity, but what the heck. We are always up for something new especially if it has a local flair.  As I recall, Shirley Muldowney raced in her jet-propelled pink dragster against "Big Daddy" Don Garlits that night. The intense heat generated from the dragsters could be felt throughout the grandstands! After that we then experienced the thrill of a sensational high-impact, collision-filled demolition derby. But the highlight of the night was to follow.
Fireworks, Maine And Aunt Marion – The Family Memories Of 4th Of July
We were immediately engulfed with fireworks literally exploding right on top of us launched from the infield of the speedway! You had to lie down in the bleachers to see the blasts since they were right over your head. My cousin, an honored Vietnam veteran, must have had flashbacks at the time. The announcer then proceeded to give a "play by play" for each firework shot in the air, repeatedly exclaiming over the loudspeaker with his distinctive Maine accent, "the red ones are the best!"  How right he was! To this day, my sons always repeat the story about the speedway fireworks every time they see any fireworks!
Thinking about this wonderful memory of Maine and Independence Day not only reminds me of that spectacular firework display but of the close relationship and love I enjoy with my Aunt Marion, who lived in Maine at the time.  She is a talented, feisty and independent lady, much like her sister, my Mom. While employed, my Aunt was, among other things, a passionate librarian who had a love for well-written children's books. She enjoyed reading them to all the kids.  So in honor of her I say "Happy 4th of July, Aunt Marion. You will always be in my heart."
Also, feeling that I must deliver some valuable information to our family law blog readers rather than just sharing my own memories, and as a tribute to my Aunt, please click here to see a wonderful list of children's books written about the 4th of July compiled by James R. Heintze, author of "The 4th of July Celebrations Database".
Happy

4th of

July

everyone! May it be truly memorable!

© 2017 – 2018, Ohio Family Law Blog. All rights reserved. This feed is for personal, non-commercial use only. The use of this feed on other websites breaches copyright. If this content is not in your news reader, it makes the page you are viewing an infringement of the copyright.

About The Author: Robert L. Mues
Robert Mues is the managing partner of Dayton, Ohio, law firm, Holzfaster, Cecil, McKnight & Mues, and has received the highest rating from the Martindale-Hubbell Peer Review for Ethical Standards and Legal Ability. Mr. Mues is also a founding member of the "International Academy of Attorneys for Divorce over 50" blog. Mr. Mues has also been a dog owner for 55+ years, and just recently, he and his wife are the owners of "Ralph", a rescued mixed Wire Hair and Jack Russell Terrier.
Blast From The Past: The Red Ones Are the Best!