Grandparents Custody In Ohio
PUBLISHER'S NOTE: Tomorrow is National Grandparents Day. While perhaps it is not a well recognized day, it should be. Grandparents are raising more and more children every year. In addition, the importance of their role in our society can not be overstated. This article posted on the Ohio Family Law Blog 10 years ago by Anne Shale, still serves as an excellent primer about grandparent custody in Ohio. In honor of all the grandparents out there, I want to say "thank you" for all your efforts, sacrafices and the love that you share!"
Grandparents Gaining "Custody" of Their Grandchildren: Why? How? Where?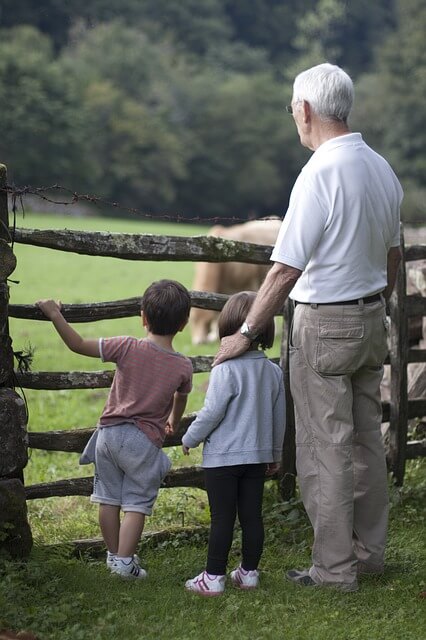 In an ideal world, children should be reared by a loving and caring two-parent family, having both a Father and a Mother, with plenty of caring relatives to assist with parenting activities during times of stress, need, or illness. Today, we are seeing more and more Grandparents taking on the responsibility of primary child-rearing of their Grandchild or Grandchildren. For the sake of brevity, this article is directed to Grandparents seeking "custody" of one Grandchild though they may, in fact, be seeking "custody" of several Grandchildren. Why are we seeing and reading about this happening or phenomenon?
Some parents have problems with untreated mental illness. Our firm recently assisted Grandparents in gaining "temporary custody" of their young Grandson as the child's Mother has Bipolar Disorder, aka Manic Depressive Disorder. When she adhered to her medication regime, she could provide safe and effective parenting for her Son. When she decided to discontinue her psychotropic medications, symptoms of her mental illness returned and she was not capable of providing for the needs of her Son.
Some parents have problems with alcoholism and other addictions. Persons who become physiologically and psychologically dependent upon drugs and/or alcohol lack the ability to make good/safe/effective parenting choices or decisions. These parents may also put their child at risk due to risky behaviors, such as driving under the influence, and by surrounding themselves with persons who are also addicted to drugs and/or alcohol. For the last several months, all of us have been exposed to the Britney Spears "Drama" taking place in California. Ms. Spears has now lost custody of her children and has also lost visitation rights due to her harmful involvement with drugs and/or alcohol.
Some parents are incarcerated due to their involvement with criminal activity. Certainly, Mothers and Fathers in prison for months and/or years can not effectively parent their child or children from their correctional facility.
Some parents die prematurely from accidents and/or illness leaving a child or children without a parent or parents. Or, the primary parent of a child, perhaps a "single parent", may die without having the biological Father identified through a paternity proceeding. Once again, it may be the Grandparents who "step up to the plate" to gain custody of the orphaned child or children.
Some parents are serving overseas with the Armed Forces of our country. While a military family or a military single parent may take their child with them to some overseas duty assignments, children are not permitted to accompany their parent or parents to a country in a declared war zone such as Iraq or Afghanistan. During the time the active duty military member serves in a hostile country, Grandparents may again come forward to become custodians of the Grandchild during the absence of the Child's parent or parents.
Some parents are so young and immature that they simply do not have the resources (financial and/or emotional) to provide for the safe and effective parenting of their child or children.
How do Grandparents gain "custody" of their Grandchildren?
First, let us distinguish between having "physical custody" of a child and having "legal custody" of a child. While "chemically dependent" Daughter may hand her child over to her parents and say – "I'm leaving! Take her, she's yours!", she has merely left the Grandparents with "physical custody" of the minor Grandchild. The Grandparents have no legal document to verify that they should retain the care and control of the Grandchild. If "chemically dependent" Daughter later becomes "sober/clean" and returns for the Child, the Grandparents with "physical custody" only would have to relinquish the Child to the parent or go to Court to fight for the Child's "legal custody".
Our firm's position would be that if the Grandparents are going to have "physical custody" of their Grandchild for any of the reasons set forth in Items 1-6 above, that they would also want to obtain "legal custody" of the Child so that they would have a Court Order reflecting that they have either "interim temporary custody" of the Child or "legal custody" of the Child. The actual Order is valuable to Grandparents for many reasons:
It enables them to obtain medical, dental, and/or psychological services for the benefit of the minor Child.
It enables them to enroll the Child in School and/or Day Care Programs.
It enables them to obtain health insurance benefits on behalf of the Child.
It enables them to retain "custody" of the Child even if the errant Parent later returns demanding that the Child be returned to her or him.
Where do the Grandparents go to obtain "legal custody" of their Grandchild?
Their first decision is to select a law firm which specializes in Family Law, Domestic Relations Law, Juvenile Law, and the issues of custody, parenting , paternity, and related matters. They should choose a law firm with proven experience with these issues as they will be asking the Court to make important decisions on their behalf, often on an "ex parte" basis. This means that the firm representing the Grandparents may be asking for the Court to make decisions without the other party being represented by counsel and without a hearing on the matter.
After selecting an appropriate and experienced law firm, decisions shall have to be made about "where" to file the custody pleadings/papers. If the child's parents were married and later divorced, the Grandparents can seek custody through the Domestic Relations Court, aka Family Court, utilizing the Case Number of the parents' divorce or dissolution proceeding.
If the parents were never married, the Grandparents can seek custody through the Juvenile Court of the appropriate County. And, if the Child's paternity was established or if child support was established for the Child, the Grandparents could file their custody pleadings under the Case Number of the paternity proceeding and/or the child support proceeding.
All Grandparents contemplating changes in custody of their Grandchild or Grandchildren are urged and encouraged to seek legal counsel in these matters. My congratulations to those Grandparents who seek "custody" of their Grandchild or Grandchildren…….they are giving up the enjoyment of their retirement benefits and of their retirement years. They are taking on the responsibility of rearing their Grandchild or Grandchildren at an age when they should be "free" from minor child/children-related issues. It is a tremendous task, but today's Grandparents are doing it for the benefit of their Grandchildren.
Do You Require Help With Grandparent Custody Issues?
The lawyers at Holzfaster, Cecil, McKnight & Mues are committed to providing our clients with excellent individualized representation and sound legal advice. Feel free to learn more about our firm at our website at www.hcmmlaw.com. If you seeking help with grandparent custody issues in Ohio, please contact us at (937) 293-2141 or email us here. We would welcome an opportunity to discuss your situation.
© 2018, Ohio Family Law Blog. All rights reserved. This feed is for personal, non-commercial use only. The use of this feed on other websites breaches copyright. If this content is not in your news reader, it makes the page you are viewing an infringement of the copyright.

About The Author: Robert L. Mues
Robert Mues is the managing partner of Dayton, Ohio, law firm, Holzfaster, Cecil, McKnight & Mues, and has received the highest rating from the Martindale-Hubbell Peer Review for Ethical Standards and Legal Ability. Mr. Mues is also a founding member of the "International Academy of Attorneys for Divorce over 50" blog.
Grandparent Custody Issues From a Lawyer's Viewpoint