Online Diamond Retailers Offers Quick Transaction For Your Engagement Ring Over Big-Name Jewelers And Pawn Shops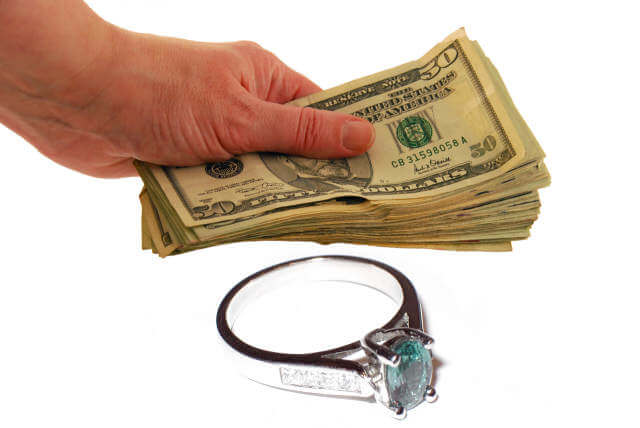 After you've gone through the heartache of getting a divorce, there's one more headache perhaps to deal with: the engagement ring. It's a once priceless item that is now an ugly reminder of what you've just endured. If you decide you can't bear to hang on to the ring, there are some options out there for you.
There is always the option of the big-name retail jewelers (such as Kay or Jared's), pawn shops, or auction houses, but these places rarely offer top dollar and will try and use their in-person sympathy to extract a lower price from you. Large auction houses generally won't care about your ring unless it has a very large, rare, or colored diamond in it. Big-name jewelers are often limited by how much they can offer you, in an effort to keep their own overhead costs low. Pawn shops hardly ever have experts available, and will seriously undervalue your diamond in an effort to get you to a lower price. However, there is another option.
Online diamond retailers offer quick services, fair prices, and allow you the space you need when making such a big decision while still getting it over with fairly quickly. Online diamond retailers are also able to offer more competitive prices, unlike retail jewelers, because they have such low overhead costs. These online companies often have a larger online presence, employ real diamond experts, and have access to the international diamond market to determine the fair market value of your rock!
Here's How To Sell Your Engagement Ring Online
Woman's Divorce.com lists WP Diamonds as a trusted online trader. If you decide that you want to sell your ring online, you can expect the process to go a little something like this:
First, you'll fill out a form online with all the details you can provide about your ring;
Second, a WP Diamonds representative will reach out to you with an initial offer for your ring;
Third, you have the choice to either schedule an appointment or send your ring in overnight (don't worry, they cover the shipping and the insurance);
Fourth, they'll reach back out to you with a final price after examining the quality and size of the diamond in-person; and
Fifth, if you choose to accept that offer, they will either wire you the money or send a check to you within 24 hours of your acceptance.
All told, if you are fully prepared, the process should take no more than 48 hours to complete, with the money in your account and everything.
If you choose to use an online diamond retailer other than WP Diamonds, you'll want to make sure that they are accredited by the Better Business Bureau, they have a credible number of reviews online, they provide free and transparent service options to you, and they have experts that are trained by the Gemological Institute of America.
The most important thing is that you feel comfortable parting with your ring and you feel like the process is safe. Going to an in-person jewelry store or a pawn shop is a good way to make sure that your ring gets sold and the money in your hands safely, but you may be sacrificing a higher selling point. In any case, do your own research before selling your engagement ring to make sure that you are making the best decision for yourself.
PUBLISHERS NOTE: I want to thank Samuel Moore for his research and writing this blog. Sam is a third year law student at the University of Dayton School of Law and recently completed his externship with us. As I have said in the past, "well done Sam". Thanks for all your excellent work at Holzfaster, Cecil, McKnight & Mues and best wishes for your future!
© 2018, Ohio Family Law Blog. All rights reserved. This feed is for personal, non-commercial use only. The use of this feed on other websites breaches copyright. If this content is not in your news reader, it makes the page you are viewing an infringement of the copyright.

About The Author: Robert L. Mues
Robert Mues is the managing partner of Dayton, Ohio, law firm, Holzfaster, Cecil, McKnight & Mues, and has received the highest rating from the Martindale-Hubbell Peer Review for Ethical Standards and Legal Ability. Mr. Mues is also a founding member of the "International Academy of Attorneys for Divorce over 50" blog. Mr. Mues has also been a dog owner for 55+ years, and just recently, he and his wife are the owners of "Ralph", a rescued mixed Wire Hair and Jack Russell Terrier.
Selling Your Engagement Ring After Your Divorce?