PUBLISHER'S NOTE: This blog on the differences between dissolution and divorce in Ohio from April 21, 2018, is as meaningful today as it was when we originally posted several years ago. We have a ton of interesting articles in our archives of the Ohio Family Law Blog. Use our Search tool and enjoy a few oldie but goodies!
Marriages In Ohio Can Be Ended In One Of Two Ways, Dissolution Or By Divorce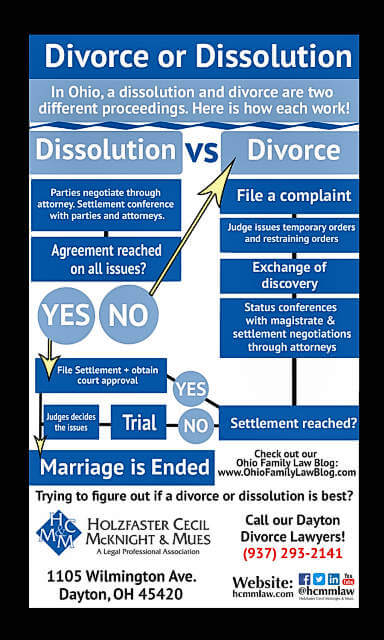 A dissolution and divorce in Ohio is different than most states. In most states, those terms can be used synonymously, but they are alternate proceedings with different statutory regulations in Ohio. Marriages in Ohio can be ended in one of two ways – by divorce or by dissolution.
Dissolution
A dissolution proceeding is the quickest and easiest of the two methods to terminate your marriage, but in order to proceed with a dissolution there are certain considerations that must be met. Primarily, there must be a total and full agreement signed by both parties as to ALL terms of the dissolution. This means that both parties have to have a full agreement on all issues, including alimony, custody, child support, division of assets, debt allocation, division of household goods and furnishings, etc. There is no subpoena power available, which means both parties must exchange all financial information voluntarily.
If such an agreement cannot be reached on ANY issue, then a dissolution proceeding is not appropriate. In addition, restraining orders are not available to be issued in a dissolution action. Any party wanting to proceed with restraining orders or where a full agreement on every term is not possible would need to file a Complaint for Divorce.
From a procedural standpoint, once the signed dissolution documents are presented to the Court, including the Separation Agreement spelling out all of the terms, the Court will review it and set the matter for a final hearing in approximately 6 weeks from the date of filing.
Petition for Dissolution
A hearing on a Petition for Dissolution cannot be held sooner than 30 days after filing the Petition or longer than 90 days after the filing of the Petition. Both parties must then appear at the hearing and indicate that:
They have made a complete and full disclosure of all of their assets and liabilities;
That they are in full agreement with the terms as set forth in the separation agreement and any other documents;
That irreconcilable differences exist between the parties;
That each spouse wants their marriage terminated. Unlike a divorce, a dissolution action can be filed in any county in Ohio as long as the parties have met the 6-month Ohio residency requirement.
While a dissolution may seem like the smart way to terminate a marriage, it may not always be feasible to accomplish, especially if there have been issues with domestic violence in the marriage, unequal negotiating power between husband and wife, or one spouse is simply not likely to ever come to a full agreement on all the terms.
Divorce
Unlike a dissolution which is a basically a non-adversarial proceeding, divorce is the option for couples who want to terminate their marriage, but are not in full agreement or cannot for one reason or another utilize a dissolution action.
The divorce allows the parties to obtain restraining orders that prohibit harassment, transferring of property or assets, incurring additional debt and cancelling health insurance. Restraining orders, as indicated above, are not available in a dissolution action but they are in a divorce. In addition, upon request, the court may enter a temporary order to help the financially disadvantaged party to support him/herself during the pendency of the divorce action. Jury trials are not permitted in a divorce in Ohio.
Well over 90% of cases that have been filed as a divorce typically will be resolved without a necessity of a court trial through the process of mediation and negotiation. An individual must be a resident of Ohio for more than 6 months before filing the divorce complaint and, in addition, he or she must have been a resident of the county where they file for at least 90 days for the court to have proper jurisdiction.
Dissolution and Divorce in Ohio Infographic
We put together an infographic containing 5 simple steps to dissolution or divorce in Ohio. Feel free to share this on social media.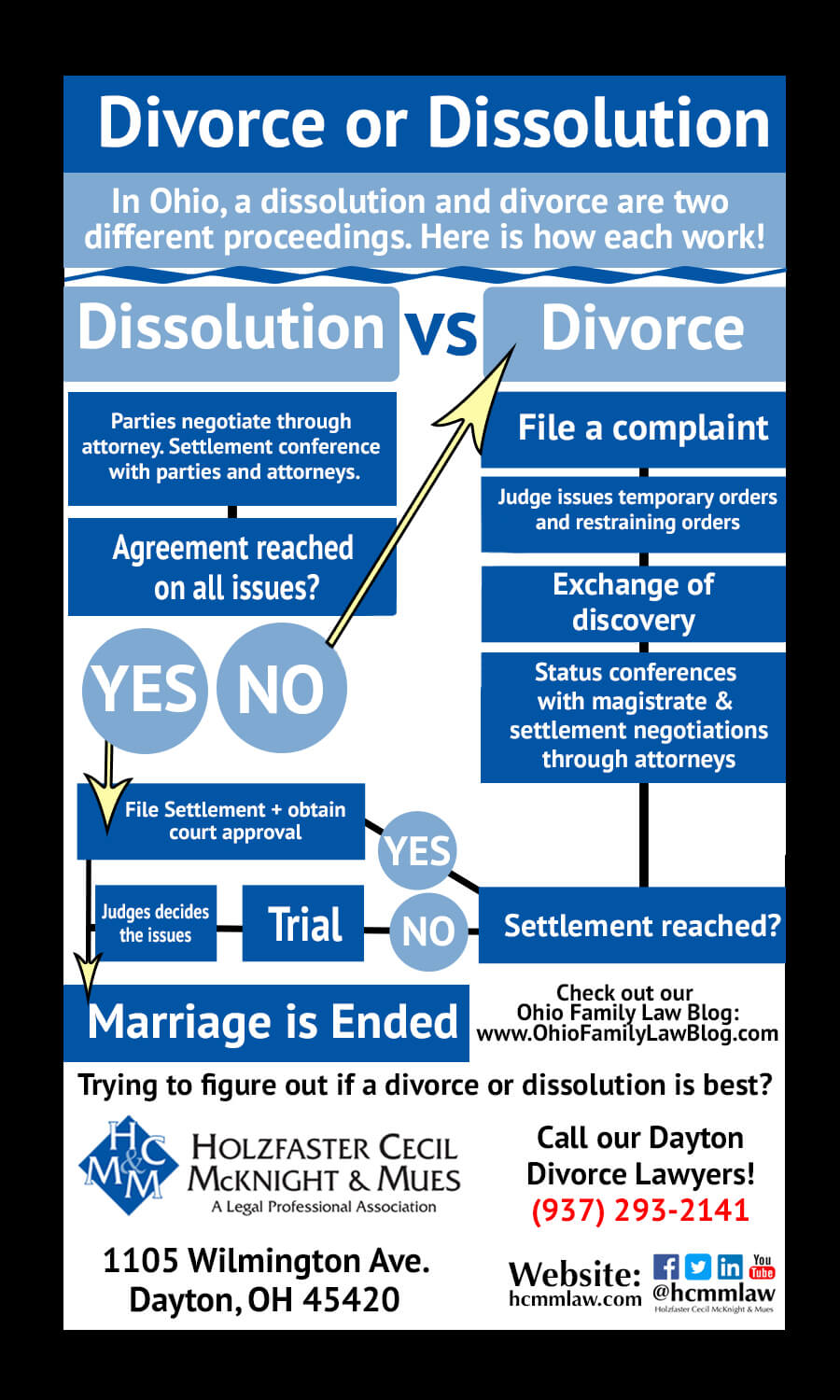 The time to complete a divorce can vary dramatically based on the complexity of the issues involved and the litigiousness of the parties and their counsel. A divorce cannot be granted for at least 6 weeks after the other party was served – this is to allow a "cooling off" period. Generally, contested divorces are resolved in Montgomery County, Ohio in approximately 6 to 9 months, and many faster.
If you are considering a divorce or dissolution in Ohio, our divorce attorneys would be happy to talk with you about the differences and the advantages of one type proceeding versus the other. There are many subtle issues and complexities that would impact making the proper determination whether to proceed with a dissolution or divorce. Contact Holzfaster, Cecil, McKnight & Mues at (937) 293-2141 or by email at info@hcmmlaw.com and we will gladly work with you and address any questions or concerns you may have about this process.
Did you like this article? To read more articles like this and others, please use the search box below.

© 2020, Ohio Family Law Blog. All rights reserved. This feed is for personal, non-commercial use only. The use of this feed on other websites breaches copyright. If this content is not in your news reader, it makes the page you are viewing an infringement of the copyright.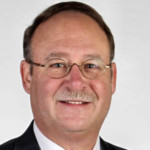 About The Author: Robert L. Mues
Attorney Robert "Chip" Mues has been focusing his legal practice throughout Southwest Ohio primarily in divorce and family law matters since 1978. Chip is passionate about family law and has proudly published the Ohio Family Law Blog since 2007. In addition, he is the managing partner of Holzfaster, Cecil, McKnight & Mues. To learn more about him or the law firm, visit the firm's website at www.hcmmlaw.com. Appointments are available in person, over the phone or by Zoom. Call us at 937 293-2141.
Blast From The Past: WHAT'S THE DIFFERENCE BETWEEN A DISSOLUTION AND DIVORCE IN OHIO?