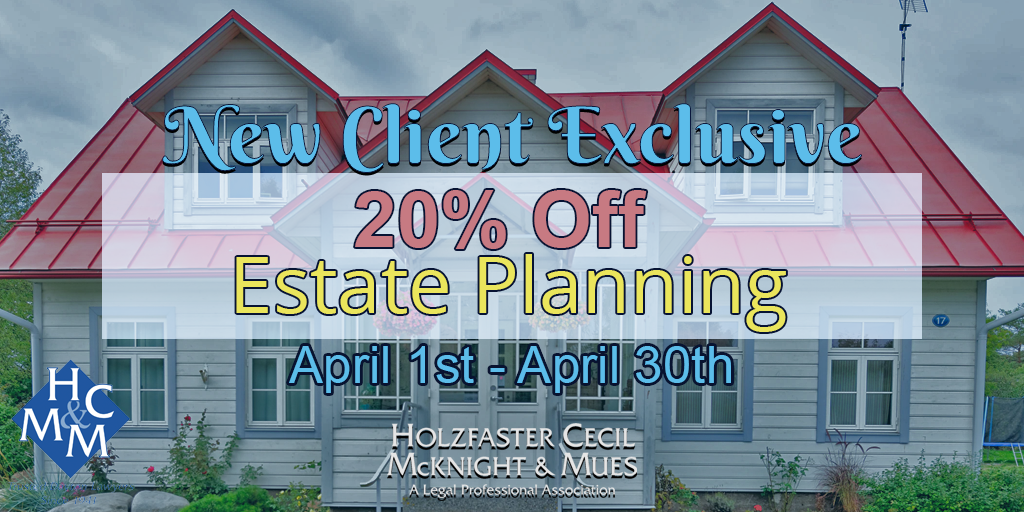 NEW CLIENT EXCLUSIVE: 20% Off ESTATE PLANNING DOCUMENTS AND SERVICES

As we near the time that some of the shelter-in-place restrictions are being lifted, many of us will feel a bit more comfortable doing some of the important things we have not yet done. As you evaluate those items, please don't ignore creating or updating your estate planning documents!
The Dayton, Ohio law firm of Holzfaster, Cecil, McKnight & Mues is offering a 20% discount for new clients on all estate planning documents and services during the month of April. We are reprinting below Attorney Joseph Balmer's blog from April 1,2020, addressing the urgency for everyone (but especially for seniors) to review and update their healthcare documents, financial power of attorney and wills and trusts.
Holzfaster, Cecil, McKnight & Mues has been providing exemplary legal services to the Dayton area community since 1941. Please call us at 937 293-2141. Quality estate planning doesn't need to be confusing or expensive! Our staff will gladly schedule you with an initial phone conference with Attorney Balmer to answer your questions and address your estate planning needs – all in plain English.
Mr. Balmer has been certified as a specialist by the Ohio State … Read More... "REPOST: Estate Planning For Seniors In The CORONAVIRUS Era [Exclusive 20% discount during April!]"