Robert L. Mues
Biography
Mr. Mues graduated from Wittenberg University in 1975 and the University of Dayton School of Law in 1978. Since graduation from Law School, Mr. Mues has been practicing law in Dayton with an emphasis in Domestic Relations litigation. He joined as a partner in his present firm, Holzfaster, Cecil, McKnight & Mues, in January of 1992.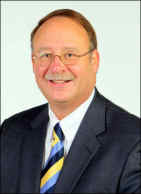 Mr. Mues has been active throughout his professional career in addressing child welfare related issues. He served for many years on the Board of Directors of Montgomery County Children Services and the Board of Directors of For Love of Children, Inc. In addition, since 1981 he has served as an impartial hearing officer and now as a state level review officer for the State of Ohio Board of Education in disputes involving school districts and parents of handicapped children concerning appropriate educational plans. Mr. Mues is a member of the Foundation Board of Dayton Children's Hospital and a member of the Fund Raising Board of Hospice of Dayton.
He is a member of various local, state and national Bar Associations and professional organizations and regularly attends seminars covering Family Law topics presented throughout the State of Ohio and the country.
Mr. Mues successfully persuaded the Ohio Supreme Court in 1984 to issue a landmark decision in the case of Castle v. Castle, extending the legal obligation of non-custodial parents to pay child support for their disabled children indefinitely beyond the child's 18th birthday until such time, if ever, that the child's disability or handicap end.
If you require legal assistance, please use our firm's Contact Form, or call our office at (937) 293-2141. To get in contact with Attorney Robert Mues directly, use his E-mail below.
Email: mues@hcmmlaw.com
Also See: Robert Mues Bio.
---
Active Contributors
Joseph E. Balmer III
Attorney Joseph Balmer is the head of the Probate and Estate Planning Administration department at Holzfaster, Cecil, McKnight & Mues, and is also a contributor to the Ohio Family Law Blog. Read his bio page here.
Email: balmer@hcmmlaw.com
---
Guest Contributors
Gregory Ramey

Gregory Ramey, PhD, is a nationally recognized child psychologist and columnist who has worked at Dayton Children's Hospital since 1979. In addition to his weekly column in the Dayton Daily News about effective parenting, Ramey has conducted more than 200 workshops and has recently been quoted in articles in Redbook, Parenting, Ladies Home Journal as well as columns distributed by the New York Times Wire Service.
Email: familywise@childrensdayton.org
---
Donna F. Ferber

Donna F. Ferber, LPC, LADC is a psychotherapist who has been in private practice for over 31 years, in Farmington, Connecticut. She is a licensed professional counselor, an alcohol and drug abuse counselor and an educator. In her private practice, Donna specializes in issues related to life transitions such as divorce, remarriage, chronic illness, loss, and relocation. She has expertise in dealing with substance abuse issues and the effects on both individuals and the family.
Donna's articles on divorce and parenting have been featured in many local publications and she has also been interviewed by The New York Times, Newsday and Women's Day Magazine. She is the author of two books. Her newest book, Profileactics: A Guide for the Prevention of Ill-Conceived Personal Ads was recently published. Her first book, From Ex-Wife to Exceptional Life: A Woman's Journey through Divorce won an Honorable Mention Award by the Independent Publishers Association. Presently she is working on a third book The Unconceivable Choice: Why Women Choose not to have Children. To read more about the author and her work, please visit her recently redesigned website at www.donnaferber.com.
---
About Our Services
The law firm of Holzfaster, Cecil, McKnight & Mues has been serving clients in the greater Dayton area for over 65 years. For more information about HCM&M, go to our website at www.hcmmlaw.com.
Contact Info
Holzfaster, Cecil, McKnight & Mues, LPA
1105 Wilmington Ave.
Dayton, Ohio 45420
Phone: (937) 293-2141,
Emergency 24 Hour Assistance: (937) 760-4357 or (937) 760-HELP
Fax: (937) 293-0914
Email: info@hcmmlaw.com
Website: www.hcmmlaw.com