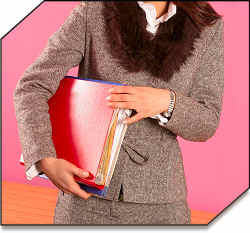 Obtaining a divorce or dissolution is a process which often needs to be broken down into stages. Once you have reached the stage when you know that the marriage is "over", you will need to then start the process of finding a divorce lawyer. Don't overlook the importance of this step! There are a lot of divorce lawyers out there and finding the "right" one for you can be critically important. To read our suggestions about that subject click here to read the first part of our article about how to select a divorce lawyer and click here to read the conclusion of that article.
It is always a good idea to interview several lawyers. So, once you have the appointment scheduled, what should you consider bringing? Being prepared for that initial conference is important. Recognize that you may be nervous or emotional, so having a list of all your assets, liabilities and questions is a must.
Depending upon your issues and the facts of your case, here is a list of items to consider bringing to that initial meeting:
Prenuptial Agreement – a copy of yours if you signed one;
Pay Stubs – try to bring at least the last 3 pay stubs for both you and your spouse (besides income, these will also show any bonuses or commissions, employment expense compensation, retirement deductions, and health benefits);
Tax Returns – include W-2s, 1099s and other documentation of income for both you and your spouse for the past 3 years (besides showing how much you and your spouse have each earned, tax returns can show us investment accounts, pension plans, and income property);
Credit Card Statements – copies of  your most recent statement for all credit card accounts;
Personal Debts/Loans – copies of any other debts, notes, or loans signed by you or your spouse to anyone, including family members;
Recent Bank Statements – for the checking and savings accounts of both spouses (these provide information on loans, direct deposits and current balances);
Vehicle Information – copies of titles, registrations and any loans (we will also need this info for any autos, motorcycles, boats, RVs, or motor homes you may own);
Stock Certificates, Bonds or Other Investments – copies of any documents or a recent statement which you or your spouse may have indicating ownership;
Real Estate Documentation – any deeds or mortgage statements with the approximate pay-off for property currently owned by either you and your spouse;
IRA, 401(k), or other Retirement and/or Pension Plans – recent statements for both you and your spouse;
Social Security Earnings Report – copies of both spouses' reports showing their earnings history;
Pending Lawsuits, Foreclosures, Bankruptcy, Judgments and Garnishments – copies of documentation for any of the above;
Inventory List, Video or Photographs – of your home, contents, furniture, or any valuable collections;
Previous Marriage Info – details of any previous marriages (date and location of marriage, date and location/case number of previous divorce);
Outline of Your Priorities – a list of your priorities or goals in the divorce or dissolution proceeding.
Obtaining this type of information sometimes takes a bit of sleuthing, but it is often easier to locate these items before your spouse knows that a divorce or dissolution is being sought.  Also, locating and organizing this information on the front end can speed up the entire process, save a lot of time and money, and afford your attorney a better opportunity to evaluate your case.
© 2010 – 2012, Ohio Family Law Blog. All rights reserved. This feed is for personal, non-commercial use only. The use of this feed on other websites breaches copyright. If this content is not in your news reader, it makes the page you are viewing an infringement of the copyright.
About The Author: John C. Meehling
Attorney John C. Meehling is a Family Law Attorney from Dayton, Ohio, and contributor to the Ohio Family Law Blog. Attorney Meehling recently joined the Dayton law firm of Holzfaster, Cecil, McKnight & Mues on November. 1, 2010.
What to Bring to Your First Meeting with a Divorce Attorney