Should Child Support Payments And Visitation Rights Remain Independent Of Each Other In Ohio?
Recent New York Ruling Says Child Support And Visitation Are Linked And Dependent Upon One Another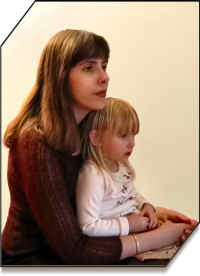 As a general rule, the payment of child support and visitation are two completely, separate issues in the eyes of the Court.  Visitation rights are granted where it is in the "best interest of the child" to have such in place.  They are not dependent upon the amount or payment of child support.  Likewise, child support is determined according to the Child Support Guidelines and has very little to do with visitation.  As a result, paying child support does not entitle a parent to visitation.  And, if a parent has court-ordered visitation, it cannot be withheld because they have failed to pay their child support.   However, in a recent case out of New York, the Appeals Court there held that support payments should have been suspended where the child was not required to abide by the ordered visitation schedule.
In its opinion, (click here to read) the Appellate Division, Second Department, found that Robert Coull had not seen his 13-year-old son in approximately 5 years due, in large part, to the "inappropriately hostile" attitude of the child's mother.  Therefore, the lower court held that the son did not have to visit his father and the Appellate Court stated that Mr. Coull should not have to pay child support either. In doing so, the court essentially found that child support and visitation are, in fact, linked and dependent upon one another.
Proponents of this line of reasoning argue that a parent should not be required to support a child that they are not allowed to have a relationship with.  In addition, they believe there should be legal consequences for a parent who purposefully alienates the other parent from their children. On the other hand, is making the two issues dependent upon each other the equivalent of saying that a parent can "buy time" with their child? Shouldn't a parent be charged with supporting a child that they brought into the world until they reach the age of majority?  While this topic raises great public debate, such a holding raises the question of whether or not this line of thinking will catch fire and find its way into courtrooms across the nation.
Generally speaking, child support and visitation are independent matters in Ohio.  Ohio Revised Code 3109.05(D) specifically states that the court shall not permit the withholding of child support because of a denial or interference with a right of parenting time.  That being said, the Ohio Sixth District Court of Appeals did suspend a father's child support obligation due to interference in visitation in Miller v. Miller. There, the children's mother moved the children to England with the specific intent of depriving father of his right to visitation. The court reasoned that it was appropriate to suspend father's support obligation because 1- mom had intentionally denied him the right of companionship with his children, 2- the children were being adequately supported, and 3- it was in the best interest of the children that father have the financial resources to pursue his rights in the English courts.  In doing so, the court recognized that a split in authority exists among the states as to whether it is appropriate to condition child visitation on the satisfaction of a parent's support obligation.  It also recognized that Ohio usually disfavors such practice.  The Miller seems to only apply to the specific factual case wherein the three factors articulated by the Court above are present.  Because child support and visitation are normally treated as separate and distinct matters, it is unlikely that we will see Ohio jump on this New York bandwagon anytime soon.
© 2015 – 2018, Ohio Family Law Blog. All rights reserved. This feed is for personal, non-commercial use only. The use of this feed on other websites breaches copyright. If this content is not in your news reader, it makes the page you are viewing an infringement of the copyright.

About The Author: Robert L. Mues
Robert Mues is the managing partner of Dayton, Ohio, law firm, Holzfaster, Cecil, McKnight & Mues, and has received the highest rating from the Martindale-Hubbell Peer Review for Ethical Standards and Legal Ability. Mr. Mues is also a founding member of the "International Academy of Attorneys for Divorce over 50" blog.
Child Support and Visitation: Should One Be Dependent Upon The Other?