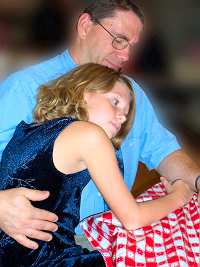 The third Sunday of June has become known as Father's Day just as the second Sunday of May has become known as Mother's Day. On that "special" day in June, Fathers in the United States are feted with cards, gifts (often ties and wallets), meals especially prepared for them or "dinner out" at their favorite restaurants, as well other special treats such as the preparation of a favorite dish or dessert prepared at home.
From my readings at various websites, the origin of Father's Day is not entirely clear.  Some say it began with a church service to honor Fathers in Fairmont, West Virginia, on July 5, 1908.  Others believe that Ms. Sonora Smart Dodd of Spokane, Washington, came up with the idea or plan to honor Fathers in 1909 while she listened to an earlier church service wherein Mothers were honored and praised.  Ms. Dodd's Father, a veteran of the Civil War and a "single parent", had successfully raised six (6) children following the premature death of his Wife.
Although the movement to honor Fathers began over one hundred (100) years ago, it took many years for this country to make this occasion an official holiday.  While citizens supported the concept of Mother's Day with pride and enthusiasm, the idea of Father's Day was at first met with laughter and satire. While President Woodrow Wilson "approved" the concept of an annual Father's Day in 1916, it was not until 1924 when President Calvin Coolidge declared the day to be a national event.  Thereafter, Father's Day was celebrated but was not made a federal holiday until 1966 when President Lyndon B. Johnson issued a proclamation declaring it to be so.  Later, in 1972, President Richard Nixon established Father's Day as a permanent holiday to be celebrated on the third Sunday of June of each year.
The allocation of parenting time for Father's Day is treated somewhat differently by each individual Domestic Relations Court throughout the state.  It is important to note that even though all Domestic Relations Courts are governed by the same statutes or laws (Ohio Revised Code: Title 31), each County may devise its own Local Rules including a Standard Order of Parenting Time.
To illustrate, if the Family Court of Montgomery County has jurisdiction of your case and the Standard Order of Parenting time has been ordered, the Father is entitled to parenting time on Father's Day, no matter the parenting time schedule for said weekend, from 9:00 a.m. to 6:00 p.m. Fathers receive more time if parenting time is pursuant to the Standard Order of the Family Court of Greene County, Ohio.  There the Father is entitled to have parenting time from Saturday at 6:00 p.m. until Sunday at 6:00 p.m.
In Miami County, the Standard Order of Parenting Time Schedule states: "Father's Day shall always be spent with the Father, regardless of which parent is entitled to the weekend.  If the parties cannot agree on times, the time shall be from 10:00 a.m. to 7:00 p.m. that evening."  The Standard Parenting Schedule of Warren County, Ohio, provides for Father to have parenting time with the minor child or children from 9:00 a.m. until 7:00 p.m.
The Domestic Relations Court of Clark County, Ohio, has a one-page Standard Order of Visitation and neither Mother's Day nor Father's Day is addressed.  Nonetheless, I was advised by a spokesperson of the Court that the Magistrates will often address Mother's Day and Father's Day in the Entries and Orders they prepare.  Finally, the Preble County Domestic Relations Court Guidelines for Parenting Time of Non-Residential Parents do address Father's Day as follows: On Father's Day, no matter whose turn for visitation, the child(ren) shall be with Father from 1:00 p.m. until 8:00 p.m.
Whatever the exact schedule for Father's Day, our law firm would strongly recommend that both parents urge and encourage parenting time between the child(ren) and Mother on Mother's Day and between the child(ren) and Father on Father's Day as it is so vitally important for children to spend time with each parent on his/her "special" holiday!
© 2009 – 2018, Ohio Family Law Blog. All rights reserved. This feed is for personal, non-commercial use only. The use of this feed on other websites breaches copyright. If this content is not in your news reader, it makes the page you are viewing an infringement of the copyright.

About The Author: Anne Shale
Anne Shale is of counsel to Dayton, Ohio, law firm, Holzfaster, Cecil, McKnight & Mues. She is a former registered nurse and concentrates her practice in Family Law and Divorce cases.
Father's Day Facts and Parenting Orders