What Legal Requirements Must Be Established For A Custody Case Change In Ohio?
This is a follow-up article to guest contributor Judianne Cochran's post of March 1, 2014 titled "Custody Issues: Post-Decree Modification in Ohio".
In that article Judi focused primarily on the importance of hiring a seasoned family law lawyer that frequently litigates post-decree custody matters.  In this article I want to discuss the legal requirements that must be provided to be successful in a change of custody case.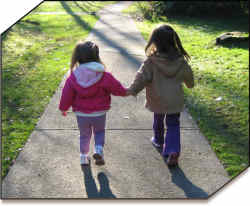 If you are looking to modify your divorce decree, one of the first major obstacles you will face is determining whether or not you have met the standard for a "change of circumstances" which is required before any modification can occur.  There are a few resources we can look to that provide insight as to what this amounts to, including case law and statutes.
Statute:
Ohio Revised Code Section 3109.04 (E)(1)(a) gives us a quick glimpse and some stern words on what it takes to meet the "change of circumstances" required.
"The court shall not modify a prior decree allocating parental rights and responsibilities for the care of children unless it finds, based on facts that have arisen since the prior decree or that were unknown to the court at the time of the prior decree, that a change has occurred in the circumstances of the child, his residential parent, or either of the parents subject to a shared parenting decree, and that the modification is necessary to serve the best interest of the child."
This statutory excerpt tells us that not only is a change of circumstances required in either the child or the residential parent(s), but a modification of the order is necessary to serve the "best interest" of the child.   Essentially, this is a two-pronged test.  The "change of circumstances" element must be established first before the court can even consider the "best interest" of the child.
Judges, when deciding whether a change of circumstances has occurred, have a very wide discretion.   Each analysis is a case-by-case scenario and is very factually dependent.  The term "change of circumstances" is not defined in R.C. 3109.04; however, the courts require a material not a minor "change of circumstances".
This may raise the question, "What has been held to constitute a change of circumstances?"
NO:  Custodial parent's failure to immunize her children was not a change of circumstances necessary for a reallocation of parental rights and responsibilities.
NO:  Physical altercation between custodial parent's spouse and spouse's child was not a change of circumstances necessary for a reallocation of parental rights and responsibilities.
NO:  Child's diagnosis of Tourette's Syndrome and attention deficit hyperactivity disorder (ADHD), standing alone, did not constitute change of circumstances warranting further consideration of child's best interests.
YES:  Passage of time during a significant portion of a child's life, combined with other pertinent factors, supports a finding of a change of circumstances requiring further inquiry by the trial court.
YES:  Unsubstantiated allegations of sexual abuse are a change of circumstances and may be grounds on which to modify a prior custody award.
YES:  A custodial parent's interference with visitation by a noncustodial parent may be considered a change of circumstances which would allow for a modification of custody.
The illustrations above are examples of what may or may not be held as a "change of circumstances".  As you can see, it's a weighty burden and is quite difficult to meet this standard.  Family law cases are rarely black or white.  Judges are granted broad discretion to make these determinations.  Subjectivity and the philosophy of the judge are important factors to be evaluated.  Courts want stability in children's lives.  They want to avoid "ping ponging" kids back and forth between parent's homes.  In addition, the legislature intended to make issues that have already been contemplated prior to the custody decree harder to re-litigate, essentially eliminating bickering or constant court litigation contests.
Custody Modification Conclusion:
When contemplating a modification of a custody decree, make sure you evaluate all relevant post-decree facts that have occurred since the last court order that affects either the residential parent(s) or the child.  Changes of circumstances to the non-residential parent are not relevant under the statute.  Also, this change of circumstances affecting the parent or child and the modification resulting from this change must be "in the best interest of the child".  This is the second of the two-pronged test.  Without a change of circumstances having been proven, the court cannot move to the "best interest" determination.  Many people erroneously believe that the first prong of the standard can be ignored.  Not true at all.  Further, the wishes of the child are a consideration but do not trump proving both the first and second prongs of the legal standard set forth in O.R.C. 3109.04 (E)(1)(a).
Domestic Relation courts are vested with subjectivity and discretion when asked to change or modify a custody order.  Two judges might hear the same facts but disagree as to whether the movant has met his/her burden of proof.   Don't undertake such a critical legal proceeding without the assistance of an experienced family law attorney familiar with the judge and his/her rulings and tendencies.  Carefully evaluate all the facts and circumstances with your lawyer.  Do not embark down this road without a comprehensive analysis of the probability of your success.  This two-pronged standard can be difficult to overcome.  You must plan ahead to be prepared to jump this legal custody hurdle.
© 2014, Ohio Family Law Blog. All rights reserved. This feed is for personal, non-commercial use only. The use of this feed on other websites breaches copyright. If this content is not in your news reader, it makes the page you are viewing an infringement of the copyright.

About The Author: Robert L. Mues
Robert Mues is the managing partner of Dayton, Ohio, law firm, Holzfaster, Cecil, McKnight & Mues, and has received the highest rating from the Martindale-Hubbell Peer Review for Ethical Standards and Legal Ability. Mr. Mues is also a founding member of the "International Academy of Attorneys for Divorce over 50" blog.
Custody Case Change – The Requirements