Will The Law Protect Clerk Kim Davis and Her Refusal To Issue Marriage Licenses For Same-Sex Couples?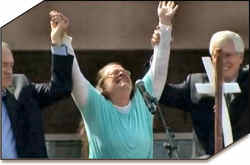 No doubt, in the last few weeks or so, you've encountered the name Kim Davis in conversation around the water cooler or dinner table.  It is also of little doubt that you've confronted staunch opinions regarding the Kentucky clerk of court who refused to issue marriage licenses to same-sex couples.
Various media outlets, as well as some individual social media enthusiasts, compare Kim Davis to Rosa Parks or Martin Luther King, Jr. – an outspoken activist of her time, doing what she believes is right to uphold her moral duty to God and her conscience.  Others, particularly those same-sex couples seeking a marriage license, find fault in Kim Davis' failure to adhere to the oath of office she took when she secured her position as clerk of courts.
Still, this did not keep U.S. District Judge David Bunning from jailing Kim Davis and holding her in contempt of court after investigating her argument that her "conscience will not allow" her to comply with the Supreme Court's recent ruling legalizing gay marriage.  Judge Bunning did attempt to give Kim Davis a break, explaining that he would release her from jail, provided she remain uninvolved with the issuance of marriage licenses.  The clerk refused this offer, citing "God's moral law" to be of ultimate conflict with her job duties.
Kim Davis has failed to administer any marriage licenses since the Supreme Court's ruling earlier this summer.  When confronted by the Court, five other clerks in the Rowan County Clerk of Courts agreed to provide marriage licenses in order to avoid fines, unemployment, or jail time.  Kim. Davis spent five days in jail and was released on Tuesday – with the understanding that she is not to prevent the marriages between same-sex couples in Rowan County from taking place.
Now, as this country has encountered with several historic Supreme Court cases, including Brown v. Board of Education and Roe v. Wade, the holding of the highest court in the land does not automatically change the day-to-day administration of the law.  History also tells us that granting one portion of the population equal rights, will undoubtedly cause a ruckus among those who less-than-welcome the change.
In the instant case, we have a conflict between Kim. Davis' Apostolic Christian beliefs and the recently expanded law of the United States. In her appeals to the United States Sixth Circuit Court of Appeals, Kim Davis asserts that Kentucky's Religious Freedom Restoration Act protects her religious beliefs.  The law, enacted in 2013,  "prohibits the state government from substantially burdening a person's freedom of religion unless the government proves it has both a compelling interest in doing so and has used the least restrictive means to do it."
The question here, and in front of the Sixth Circuit Court, will be whether the requested removal of Kim Davis' name from any issued licenses will be the "least restrictive means" of "burdening" her right to express her freedom of religion.  Without a doubt, the question of what effect Kim Davis' oath of office has the relationship between her religious beliefs and the execution of her duties will be of vital importance.
What's Next For Kim Davis? Religious Beliefs, Marriage For Same-Sex Couples, and Personal Discretion
Should Kim Davis be required to comply with the demands of her job, regardless of her "conscience," or should she be permitted to apply her religious beliefs, and therefore her personal discretion, to the administration of her duties?
To learn more about the Kim Davis situation, click here. We will keep you posted on this struggle to attain same-sex marriage equal rights as it unfolds.
© 2015 – 2018, Ohio Family Law Blog. All rights reserved. This feed is for personal, non-commercial use only. The use of this feed on other websites breaches copyright. If this content is not in your news reader, it makes the page you are viewing an infringement of the copyright.

About The Author: Robert L. Mues
Robert Mues is the managing partner of Dayton, Ohio, law firm, Holzfaster, Cecil, McKnight & Mues, and has received the highest rating from the Martindale-Hubbell Peer Review for Ethical Standards and Legal Ability. Mr. Mues is also a founding member of the "International Academy of Attorneys for Divorce over 50" blog. Mr. Mues has also been a dog owner for 55+ years, and just recently, he and his wife are the owners of "Ralph", a rescued mixed Wire Hair and Jack Russell Terrier.
Kim Davis: Adherence to Moral Conscience or Violations of the Law?