Tax Returns To Be Amended By IRS To Reflect Same-Sex Marital Status Changes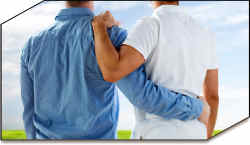 In 2013, in United States v, Windsor, the U.S. Supreme Court found Section 3 of the Defense of Marriage Act to be unconstitutional.   Section 3 defined "marriage" as a legal union between one man and one woman and "spouse" as only a person of the opposite sex who is a husband or a wife.  The Court's decision meant that married same-sex couples must be treated under federal law as married opposite-sex couples.
The IRS followed up with Revenue Ruling 2013-17.  The IRS concluded that, for federal tax purposes, the terms " husband and wife", "Husband" and "wife" should be interpreted to include same-sex spouses.  The IRS further concluded that, for federal tax purposes, recognition should be given to a same-sex marriage that was valid in the state where it was entered into, regardless of the married couple's place of domicile.
IRS Issues Final Rules For Same-Sex Marriage Couples
On September 2, 2016, the IRS has issued final rules consistent with United States v. Windsor and Revenue Ruling 2013-17.  Under these rules, the terms "spouse", "husband" and "wife" shall apply to same-sex marriages for federal tax purposes.  These rules amend the Income Tax Regulations, Estate Tax Regulations, Gift Tax Regulations, Generation-Skipping Transfer Tax Regulations, Employment tax and Collection of Income Tax at Source Regulations and the Regulations on Procedure and Administrations. These rules apply to same-sex couples if the marriage is recognized in the state where the couple was married, regardless of their present state of domicile. It does not include any type of civil union that is not deemed to be a marriage under that state's law.  The IRS has made efforts to make employers aware of these rule changes and that employees may be amending tax returns to reflect these changes to their recognized marital status. Click here to read these final IRS rules.
© 2016 – 2018, Ohio Family Law Blog. All rights reserved. This feed is for personal, non-commercial use only. The use of this feed on other websites breaches copyright. If this content is not in your news reader, it makes the page you are viewing an infringement of the copyright.

About The Author: Joseph E. Balmer
Joseph Balmer manages the Probate, Trust and Estate Administration department at Dayton, Ohio, law firm, Holzfaster, Cecil, McKnight & Mues, and has been certified by the Ohio State Bar Association as a specialist in Estate Planning, Trust and Probate Law since 2006.
Gay Marriage Alert: The IRS Finalizes Rules Recognizing Same-Sex Marriages