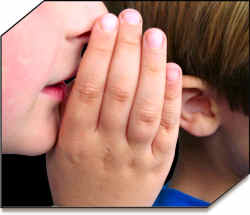 We have blogged in the past about parental alienation and "Parental Alienation Syndrome."  Currently, Parental Alienation Syndrome (PAS) is a hot topic among the family law and psychiatric communities. The American Psychiatric Association is in the process of updating its formal list of medical disorders and, therefore, has to decide whether to include PAS in its new list of confirmed mental health disorders.
According to Wikipedia, "Parental Alienation Syndrome (abbreviated as PAS) is a term coined by Richard A. Gardner in the early 1980s to refer to what he describes as a disorder in which a child, on an ongoing basis, belittles and insults one parent without justification, due to a combination of factors, including indoctrination by the other parent (almost exclusively as part of a child custody dispute) and the child's own attempts to denigrate the target parent".
I suspect virtually all Family Law attorneys will tell you that, unfortunately, purposeful parental alienation is all too common in hotly contested custody actions. So, while there appears to be little debate on its existence, there is a bitter debate as to whether it represents a mental illness.  On top of that, there is concern that certain opposition to visiting with a parent could either be age appropriate (e.g. a teenager being oppositional) or otherwise justified.  The people of this view are concerned that making parental alienation a mental illness could be invoked by an abusive parent to gain visitation with a child that has good reason to oppose contact. But the group supporting its inclusion believes that recognition of parental alienation in the psychiatrists' manual would lead to fairer outcomes in family courts and enable more children of divorce to get treatment so they could reconcile with an estranged parent.  Certainly, no matter where you stand on the debate about the inclusion of PAS as a mental illness, alienating behavior can be exceedingly damaging to a child.
The psychiatric association first published its manual of diagnostic disorders, known as the DSM, in 1952. The last major revision was published in 1994 and updated in 2000, and the fifth edition — DSM-5 — is due for publication in May, 2013.  Dr. Darrel Regier, vice chair of the task force drafting the manual, recently said, "The passions on both sides of this are exceptional."  However, PAS was not included in the preliminary draft of the recent version, and Dr. Regier described chances for inclusion of parental alienation as "slim" — given that it has not been selected for field trials that normally would be a prerequisite for official recognition.
The APA has developed a comprehensive website about the DSM-5 task force, including preliminary draft revisions to the current diagnostic criteria which are available for public review and comment. To access it, click here.  If you wish to read the October 5, 2010, press release from the American Psychiatric Association about the start of the field trials for the DSM-5, click here.
© 2010, Ohio Family Law Blog. All rights reserved. This feed is for personal, non-commercial use only. The use of this feed on other websites breaches copyright. If this content is not in your news reader, it makes the page you are viewing an infringement of the copyright.

About The Author: Robert L. Mues
Robert Mues is the managing partner of Dayton, Ohio, law firm, Holzfaster, Cecil, McKnight & Mues, and has received the highest rating from the Martindale-Hubbell Peer Review for Ethical Standards and Legal Ability. Mr. Mues is also a founding member of the "International Academy of Attorneys for Divorce over 50" blog. Mr. Mues has also been a dog owner for 55+ years, and just recently, he and his wife are the owners of "Ralph", a rescued mixed Wire Hair and Jack Russell Terrier.
Should Parental Alienation be Classified as a Mental Disorder?