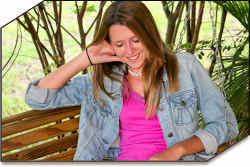 Joel Goodman of the Humor Project in Saratoga Springs, New York, says, "Humor is what lubricates life." Humor can help you deal with all the stressors in your life. Humor cannot erase the situation, but it can take the sting out of many things, thus reducing their negative impact. In order for humor to be curative in your life, you need to find your own laugh button. Remember, divorce is one part of your life, don't make it your whole life!
Jennie remarked recently how surprised she was that she could still feel joy taking a walk on a beautiful autumn morning, even though she felt devastated by her divorce. Nurture those feelings of joy, laughter, and wonder. Laughter is not just a luxury; it is a vital piece in the healing process. It is especially important during times of stress. It provides our body, heart, and mind with a welcome and necessary reprieve. It just doesn't feel good, it actually IS good. Laughter changes the chemicals our body secretes-Endorphins boost feelings of well being and peace.
Creating humor from a stressful situation gives you the opportunity to experience a shift in perspective. No one is suggesting that you become a stand-up comic. In fact, no one else has to think it is funny. What is important is that you create a scenario or image that feels funny to you. If putting donkey ears and a big mustache on photos of your estranged makes you feel better, then go ahead and do it! (Of course, no one has to see it).
Tips for bringing humor into your life:
Read the funnies, watch a television comedy, rent a funny movie.
Keep a humor journal.
Tell a joke or a funny story.
Learn to laugh at yourself.
Try to see the funny side in situations.
Exaggerate.
Use humor to handle anxiety or anger.
Make up a comedy routine.
Hang out with happy people.
Smile even when you don't feel like it.
Create or adopt a theme song.
Bill Cosby said, "If you can laugh at it, you can survive it."
Make a conscious effort to bring laughter back into your life by trying one of the above suggestions or one of your own. Do it even if it feels silly! That's the point of it!

©2010. Donna F. Ferber, LPC, LADC, is a licensed psychotherapist in Connecticut. Her newest book is available at bookstores everywhere, Amazon.com or at her website. This article is from her first book, From Ex-Wife to Exceptional Life: A Woman's Journey through Divorce, which won an Honorable Mention Award by the Independent Publishers Association. To read more about the author and her work, please visit www.donnaferber.com
© 2011, Ohio Family Law Blog. All rights reserved. This feed is for personal, non-commercial use only. The use of this feed on other websites breaches copyright. If this content is not in your news reader, it makes the page you are viewing an infringement of the copyright.

About The Author: Guest Contributor Donna F. Ferber, LPC, LADC
Donna F. Ferber, is a psychotherapist in private practice for over 31 years. She is a licensed professional counselor, a licensed alcohol and drug abuse counselor and an educator. Donna works with individuals and in groups. Her office is in Farmington, Connecticut.
Bringing Laughter Back Into Your Life