Supreme Court Renders Decision in International Custody Case, Chafin v. Chafin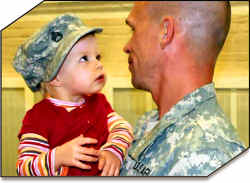 The international custody case of Chafin v. Chafin was previously discussed in our Ohio Family Law Blog article of October 6, 2012. ("Child Custody Dispute to be Decided By the U.S. Supreme Court")  The Father in this case is a citizen of the United States and an active duty member of the United States Army.  The Mother is a citizen of Scotland and she presently has custody of the parties' minor daughter, Eris Chafin.  Mother and Daughter have been living in Scotland since October 2011.
The procedural/factual history of this international custody case is as follows:
The parties married in March 2006 while Sgt. Chafin was stationed in Germany.  Eris Chafin was born the following year in 2007.  While Sgt. Chafin was deployed to Afghanistan for 15 months in 2007-2008, Mother moved with the minor child to her native Scotland.
Father was subsequently reassigned to an Army base in Alabama in early 2009.  Later that same year, the parties decided to reconcile and Mother and Eris moved to Alabama to live with Father.
In May 2010, Husband/Father filed a Complaint for Divorce in the Circuit Court of Alabama.  He was awarded temporary custody of the minor child, Eris Chafin.
In February 2011, Wife/Mother was deported to Scotland as immigration officials determined her 90-day Tourist Visa had expired.  The minor child, Eris Chafin, remained in the United States with her Father being her primary caregiver.
In May 2011, Mother initiated an action in the U.S. District Court for the Northern District of Alabama.  Mother's counsel invoked the Hague Convention and the Civil Aspects of International Child Abduction (CAICA) in filing her Petition for the child to be returned to Scotland, the country of her "habitual residence".  After two days of testimony on October 11 and 12, 2011, Judge Inge Prytz Johnson issued her Decision from the bench that Scotland was the Child's Habitual Residence and that Mother and Child could return to Scotland.
Within a very short period of time, Father filed his Motion requesting that the lower Court stay the child's relocation pending appeal.  Sixteen minutes thereafter, the lower Court denied Father's Motion for the matter to be "stayed" pending appeal.  The lower Court permitted Mother to leave and take the child with her.  Father had less than one hour to spend with Eris before she boarded a plane and left for Scotland.  At that time Eris had been living in the United States for 19 months and exclusively with her Father for almost 10 months.  On October 13, 2011, the Court issued its written Order confirming the return of the child to Scotland.
Father then filed an appeal with the 11th U.S. Circuit Court of Appeals.  On February 6, 2012, Father's appeal was dismissed by the Court as being moot as the child had already been returned to Scotland.
Thereafter, on May 7, 2012, Father filed his Petition for Writ of Certiorari in the Supreme Court of the United States.  The Supreme Court of the United States granted Father's Petition and agreed to hear his case.  Oral arguments were made to the Court on December 5, 2012.  Finally, a Decision written by Chief Justice Roberts was filed on February 19, 2013.
A discussion of that Decision follows:
The specific issue on appeal was whether a Hague Convention Case becomes "moot" if the child has been returned to his/her country of "habitual residence".  In the instant matter, Judge Johnson ruled that the child should remain in Scotland with her Mother as Scotland had been the child's "habitual residence".
The Supreme Court held and Justice Roberts wrote in his Decision that the issue of Eris' custody had not become moot.  Indeed Judge Roberts wrote the following:
"This dispute is very much alive.  Mr. Chafin continues to contend that his daughter's country of habitual residence is the United States, while Ms. Chafin maintains that Eris' habitual residence is Scotland.  Father also argues that even if Eris' habitual residence was Scotland, she should not have been returned to Scotland because the Convention's defenses to return apply."
In short, Father is seeking a reversal of the District Court determination that Eris' habitual residence was Scotland and, if that determination is reversed, an Order that Eris be returned to the United States.  The Supreme Court held that the lower Courts continue to have jurisdiction to adjudicate the merits of the parties' respective claims.  The Court in its Decision vacated the Judgment of the United States Court of Appeals for the Eleventh Circuit and remanded the case to the lower Courts for further proceedings consistent with this opinion. To read more about the Supreme Court's decision on this international custody case, please click here.
Conclusion
While the Supreme Court ruled in Father's favor, it may be many months or years before Eris is returned to her Father in the United States.  While Father and his counsel can be buoyed with a victory, there will continue to be litigation regarding young Eris, now either age five (5) or six (6).  I continue to find fault with the Decision of Judge Johnson who ruled that Scotland was the habitual residence of Eris Chafin when there was testimony and evidence that Eris had lived with her parents and then her Father in the United States for at least 19 months before the trial in October 2011.
I found the Decision of Judge Johnson to be punitive to Father, a citizen of the United States and an active duty member of the United States Army. I believe that Father's request to Stay or put a hold essentially of Judge Johnson's decision should have been granted to allow a proper appeal. The United States Supreme Court rarely accepts family law cases. I wish that I could have been present to hear the oral arguments to the Supreme Court of the United States on this most interesting Hague Convention case!
International Custody Cases Aggressively Represented By Our Law Firm
As mentioned in our earlier article, our law firm has aggressively represented parties in international custody disputes and Hague Convention matters. We are here for you in the event you find yourself in such a situation and need experienced legal advice!
© 2013, Ohio Family Law Blog. All rights reserved. This feed is for personal, non-commercial use only. The use of this feed on other websites breaches copyright. If this content is not in your news reader, it makes the page you are viewing an infringement of the copyright.

About The Author: Anne Shale
Anne Shale is of counsel to Dayton, Ohio, law firm, Holzfaster, Cecil, McKnight & Mues. She is a former registered nurse and concentrates her practice in Family Law and Divorce cases.
International Custody: A Hague Convention Case Dispute