Looking to Divorce Somewhere Other Than Where You Live? Why You May Want to Reconsider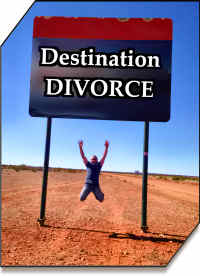 In a previous article written on July 25, 2015, titled, "Divorce: DivorceHotel Provides Vacation And A Divorce", I discussed the U.S.'s first "divorce hotel" in Saratoga Springs, NY which offers a weekend retreat where a couple can indulge in fine dining and relaxing spa treatments, all while their divorce is being finalized.
Headed by Netherlands-based company, DivorceHotel, the newest trend in separations is to offer a "destination divorce" where couples can vacation and end their marriage simultaneously.  While the idea may seem appealing at first glance, several factors should be carefully considered before you decide to pack your bags.
Getting a divorce in a place other than where you live is nothing new.  For years, people have been traveling outside of their home state to take advantage of "quickie divorce" policies in other locations. In the past, some couples headed to Nevada, while others went a bit further traveling to countries such as Mexico and the Dominican Republic to take advantage of the fast and inexpensive divorce options offered.  Quick and painless, for many the process seemed like a no-brainer.
However, today the problem arises when the happily divorced couple returns home looking to have their new found freedom be recognized by their home state, or U.S. courts in general.
Normally, states are required to recognize divorces from other states pursuant to the Full Faith and Credit Clause of the Constitution.  Under this clause, as long as the divorce decree was obtained in accordance with the laws and public policies of the issuing state, the others will give it full effect. That being said, while you may be able to zip up to the divorce hotel in New York for the weekend, you may run into problems in the future should you return to Ohio.
While Ohio courts will recognize your divorce from another state, if you need to alter anything in the future, the court may not be able to help you.  According to Ohio law, even though it can enforce the original order of another state, the law of the state that issued the divorce will most likely control whether or not modifications can be made down the line. (See Peterson v. Peterson, 721 N.E.2d 515). Therefore, divorcing in your home state might save you time and money, not to mention a trip back to your "vacation spot" in the future should something change.
In addition, if you and your ex both happen to live in California, Nebraska, New Hampshire, North Dakota, Rhode Island, South Carolina or Wisconsin, but decide to divorce elsewhere, your divorce WILL NOT be recognized at all once you return home. Under the Uniform Divorce Recognition Act enacted by these states, if both spouses reside in one of these locations but decide to divorce in another state, (i.e. head out of town to the Divorce Hotel), the divorce will not be given recognition back home.  This law was some states answer to the "quickie divorce" epidemic seen in the past.
If, however, you are someone who is contemplating jet-setting to a more exotic location to get divorced, then there may be even more hurdles for you to clear.  Generally, in order for a state to recognize a divorce from another country, one of two requirements must be met: at least one of the spouse's must be a resident of the foreign country at the time of the divorce, or the non-filing spouse must be properly notified of the foreign proceedings. As long as one of these occurs, a state will normally recognize the divorce pursuant to the doctrine of comity.  "Comity" is essentially a court's recognition of a foreign decree out of courtesy.  The Full Faith and Credit Clause does not apply to foreign nations.  Therefore, the states do not have recognize their divorce orders, but they choose to out of consideration as long as one of the above-mentioned requirements is fulfilled.  This concept is also followed in Ohio.
In one case, the court gave full effect to a Chinese divorce where the couple was married in China and the wife was still residing there when the husband initiated the proceedings. (See Yu v. Zhang, 175 Ohio App.3d 83). On the other hand, the court refused to recognize a divorce from Mexico in two different cases because in the first, the husband failed to establish residency, and in the second, neither spouse participated in the proceedings nor did they reside there.  (See Bobala v. Bobala, 68 Ohio App. 63; Smith v. Smith, 72 Ohio App. 203).
Consider Long-Term Consequences Before Destination Divorce
As you can see, there is more to consider than how fast and cheap you can end your marriage, or how luxurious the hotel accommodations may be.  While a "destination divorce" may be suitable for some, we urge you to consider all the long-term consequences that go along with it. Be sure to talk with a seasoned local divorce lawyer before heading in this direction.
© 2015, Ohio Family Law Blog. All rights reserved. This feed is for personal, non-commercial use only. The use of this feed on other websites breaches copyright. If this content is not in your news reader, it makes the page you are viewing an infringement of the copyright.

About The Author: Robert L. Mues
Robert Mues is the managing partner of Dayton, Ohio, law firm, Holzfaster, Cecil, McKnight & Mues, and has received the highest rating from the Martindale-Hubbell Peer Review for Ethical Standards and Legal Ability. Mr. Mues is also a founding member of the "International Academy of Attorneys for Divorce over 50" blog. Mr. Mues has also been a dog owner for 55+ years, and just recently, he and his wife are the owners of "Ralph", a rescued mixed Wire Hair and Jack Russell Terrier.
Divorce In Another Place: A Quick And Painless Divorce