The FAFSA application (Free Application for Federal Student Aid)
Publishers Note: On June 8, 2013, we published "College Expenses: The Impact of Student Loan Debt On Your Child". College loans are problematic. This seemed like an excellent time to update and address applying for school aid for kids whose parents are divorced. Click here to read the original blog article.
Applying for College? How to complete the FAFSA application (Free Application for Federal Student Aid) if your parents are divorced or unmarried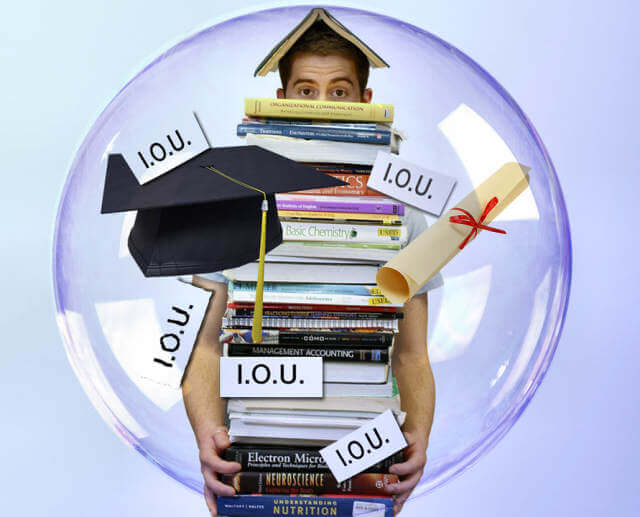 Selecting and applying to a college or university can be really tough and daunting. After doing that, unfortunately, you are likely not finished. Next ahead is completing the FAFSA (Free Application for Federal Student Aid) application. This can be complicated especially if your parents are divorced (or your parents are unmarried).
Custodial Parent Determination:
The "custodial parent" designated in your parents divorce paperwork does not control for FAFSA consideration purposes. If your parents are not married but living in the same household, you must include the information for both parents. If, on the other hand, your parents are not married and do not live together, then you fill out the application for the parent whom you live with the most. If you live with them both equally, then the parent who provided you more financial support over the last 12 months is for FAFSA purposes considered the "custodial" parent. If your custodial parent or the parent you have lived with the most over the past year is now legally remarried, then you also need to report your step-parent's information on the FAFSA.
Expected Family Contribution (EFC):
The amount of aid you will receive is based in part on the expected family contribution (EFC). This formula considers assets, tax information, untaxed income and benefits. Family size and the number of children attending college during the years also factors into the equation. When completing the FAFSA application , the required tax information can be uploaded easily on the U.S. Department of Education's portal.
Who is my Parent for FAFSA Application Purposes?
This infographic below from the U.S Department of Education is valuable in determining the FAFSA's definition of your "family".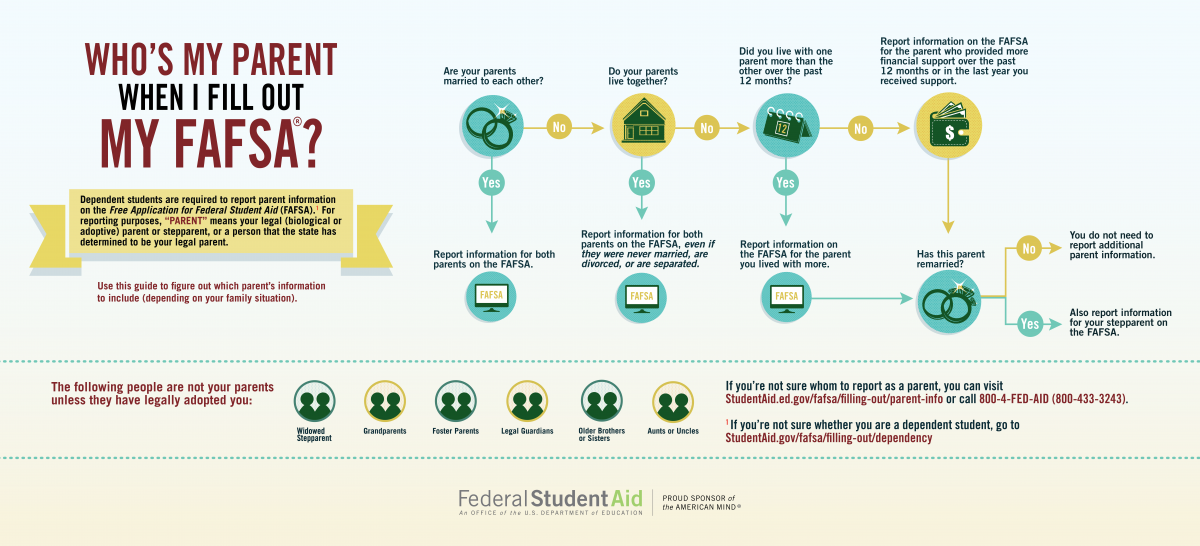 Don't Include the Income of all the Adults in Your Life!
If you do, you will lose aid. Focus your application on the correct custodial parent as defined by FAFSA. Do not include other adults and their incomes. Want to get the highest aid package? Then you need to understand that by living with the parent who earns least amount of money, your EFC will be lower and your aid package will be higher. Of course, you can't lie on the application (but a child can in certain circumstances plan ahead which home he or she will live in the most).
Hopefully, these tips may help you plan ahead and answer some questions if your situation is not "traditional" one. The government's website is of course the place to start. Click here to get started. In addition, remember that most colleges and universities have financial aid experts who can answer questions and assist you in this process. They can be a great resource! Good luck!
© 2020, Ohio Family Law Blog. All rights reserved. This feed is for personal, non-commercial use only. The use of this feed on other websites breaches copyright. If this content is not in your news reader, it makes the page you are viewing an infringement of the copyright.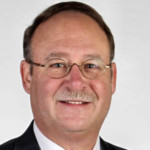 About The Author: Robert L. Mues
Attorney Robert "Chip" Mues has been focusing his legal practice throughout Southwest Ohio primarily in divorce and family law matters since 1978. Chip is passionate about family law and has proudly published the Ohio Family Law Blog since 2007. In addition, he is the managing partner of Holzfaster, Cecil, McKnight & Mues. To learn more about him or the law firm, visit the firm's website at www.hcmmlaw.com. Appointments are available in person, over the phone or by Zoom. Call us at 937 293-2141.
Tips on Applying for Student Loans if Your Parents are Divorced