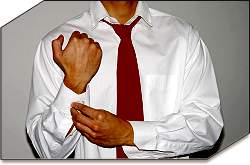 The date for your "non-contested" divorce hearing or your dissolution hearing has been set.  What is the appropriate attire for Court?  First, it is most important to recognize that the two (2) hearings set forth in the first sentence indicate that the case has been "settled" or "resolved".  Basically, this means that neither party will be testifying against one another and that neither party has a large stake or investment in the Court's impression of either party.
FOR MEN: A nice pair of slacks and a dress shirt or golf shirt would be appropriate. A sports coat or suit may be worn but certainly is not required.  Shoes and socks should be worn as "flip flops" are prohibited.  Likewise, it may be ninety degrees (90°) in August and hot/humid, but shorts are not permitted to be worn in the Courtroom. Other prohibited articles of clothing include tank tops, tee shirts, shirts reflecting foul or vulgar language or politically incorrect language, and hats.
FOR WOMEN: A dress, skirt and top, or slacks and a nice top would be appropriate. As in the paragraph above, it would not be appropriate to appear in Court in shorts, a halter top, or a skimpy tank top, or flip flops.
Example from "real life"– Several years ago, I attended a final divorce hearing in Greene County, Ohio.  The day was hot and sultry.  My client, the Husband, appeared in golfing attire wearing shorts.  We were given two options: (1) reschedule the final hearing to a later date; or (2) have Husband obtain a pair of slacks.  Husband elected to go to the local K-Mart and select a pair of slacks.  He returned to the Court in slacks with the price tags being apparent.  I asked him if the tags should be removed before we entered the Courtroom.  He responded that he did not want to remove the tags as he planned to return the slacks to K-Mart following the divorce hearing!
The proper and/or appropriate attire for either party changes dramatically if the parties are facing a "contested" divorce and/or custody hearing, wherein each would be on the witness stand for protracted periods of time and, wherein, their appearances would certainly be scrutinized by the Court.
FOR MEN: Same as above; however, a sports coat or suit could be worn but would not be considered mandatory.  If the Husband/Father is seeking custody of his child or children, he would want to be dressed conservatively…nothing too flashy, nothing too out-of-the ordinary. For example, if a young Husband is seeking custody of his child/children, he could receive "negative" points if he appeared in Court in non-traditional attire such as Black Gothic Style clothing or wildly colored hair.  Remember, that most Judges are older conservative individuals.  If the Husband/Father has an abundance of tattoos, I would definitely suggest that he consider wearing a long-sleeved shirt to "cover" the tattoos!  Also, it would be advisable for the client to remove evidence of body piercings….ears, lips, nose, eyebrows, etc.
FOR WOMEN: The main point to remember……..you do not want to appear in Court as Sharon Stone appeared in "Basic Instinct"!  This is not the time to appear to be "hot" or "sexy" especially if you are seeking custody of your child or children.  You want to appear stable, sensible, warm and loving. Soft colors are better than bright and vibrant colors.  Longer skirt lengths are better than short skirt lengths! You do not want to wear anything that would be considered "too short, too skimpy, too wild, too bold, or too sexy".
I advise my clients to dress appropriately for Court. Dress as you would for church or an important job interview.  If you are in the armed services, wearing your military attire is a very safe choice. If you look sloppy or inappropriate, the Judge or Magistrate may believe that you are showing or displaying a lack of respect for the Court.  You have but one opportunity to create that "first impression"! So, consider these "do's and don'ts" in advance of your Court date and make a good impression with the Judge.
Also, if you will be going to Court soon, please read our prior article from July of 2008, "10 Ways to Alienate the Judge" by clicking here. Looking good can only take you so far! Don't make any of these other faux pas in court!
© 2009 – 2018, Ohio Family Law Blog. All rights reserved. This feed is for personal, non-commercial use only. The use of this feed on other websites breaches copyright. If this content is not in your news reader, it makes the page you are viewing an infringement of the copyright.

About The Author: Anne Shale
Anne Shale is of counsel to Dayton, Ohio, law firm, Holzfaster, Cecil, McKnight & Mues. She is a former registered nurse and concentrates her practice in Family Law and Divorce cases.
How To Dress For Court – Do's And Don'ts