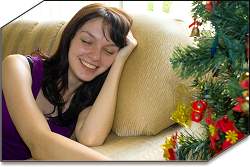 If this is your first Christmas since the separation and divorce, the anticipation can fill you with sadness and trepidation. Here are some solid, easy tips to help make the holidays less painful and hopefully, maybe, even (surprisingly!) enjoyable!
Let go of traditions that no longer work for you. This is an opportunity to re-invent your holidays. Keep the traditions that you enjoy and get rid of the ones that you don't. No one expects you to be on your best behavior during this time, so you can probably pull it off without anyone getting too upset.
Stick to your regular routine as closely as possible. Sleep, exercise, eat well and don't skip those therapy appointments.
Don't use money, alcohol, food, or sex to deal with pain and sadness. These indulgences will leave you poor, hung over, fat, and guilty on December 26th.
Don't be afraid to do something different. Go away or stay home, but take a risk to use the holidays to try something different.
Most people are depressed around the holidays. Expectations are often the fuel that feeds that "let down" feeling. Instead of focusing on what isn't, focus on what is and what can be.
Don't make New Year's resolutions. We hardly ever keep them. Then we feel like failures and have one more thing to beat ourselves up about. Instead ask yourself, "What have I learned this year about myself and about life?" Then, if you feel really ambitious, focus on how you can use that information to enhance the coming year.
Volunteer. Nothing makes us feel more valuable and grateful than working with those who have less.
Remember that Christmas is only one day. Anyone can get through one day! One year from now, when you will look back on this holiday season, you will be amazed at how far you've come.
How important is this? Sometimes things seem more important than they really are. Ask yourself this: Will this matter to me one year from now? Will I even REMEMBER it?
Take the high road. Just because someone else behaves badly doesn't mean you have to. "Giving them a dose of their own medicine" only ups the ante and escalates the conflict. Do you really want someone else to dictate how to behave? You may not like what others do, but you can like what you do. Behaving with dignity enhances self-esteem.
Donna F. Ferber, LPC, LADC is a psychotherapist in Connecticut who works with families in transition. This article is adapted from her book, Ex-Wife to Exceptional Life: A Woman's Journey through Divorce which was awarded Honorable Mention in the self-help category by the Independent Publishers Association. Her second book Profileactics: A Guide for the Prevention of ill-Conceived Personal Ads was just published in October 2009. More information, click here to go to her website.
© 2009 – 2018, Ohio Family Law Blog. All rights reserved. This feed is for personal, non-commercial use only. The use of this feed on other websites breaches copyright. If this content is not in your news reader, it makes the page you are viewing an infringement of the copyright.

About The Author: Guest Contributor Donna F. Ferber, LPC, LADC
Donna F. Ferber, is a psychotherapist in private practice for over 31 years. She is a licensed professional counselor, a licensed alcohol and drug abuse counselor and an educator. Donna works with individuals and in groups. Her office is in Farmington, Connecticut.
Strategies to Make Your Christmas Less Stressful