How Effective Will The Affordable Care Act Be For Women Suffering Health Insurance Loss After Divorce?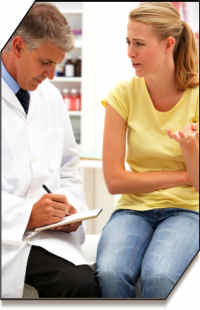 Approximately 115,000 women lose their private health insurance every year as a result of divorce, according to a recent University of Michigan study. "Given that approximately one million divorces occur each year in the U.S., and that many women get health insurance coverage through their husbands, the impact is quite substantial," said Bridget Lavelle, a U-M doctoral candidate in public policy and sociology, and lead author of the study which appears in the December issue of the Journal of Health and Social Behavior.
Many women who lost their health insurance coverage remained uninsured for more than two years following their splits, according to the researchers who analyzed data from women between the ages of 26 and 64 from 1996 through 2007.
Lavelle conducted the study, which analyzes nationally representative longitudinal data from 1996 through 2007 on women ages 26-64, with U-M sociologist Pamela Smock. Their research was supported by the U-M National Poverty Canter.
Among the other key findings of the study according to a University of Michigan press release:
Each year, roughly 65,000 divorced women lose all health insurance coverage in the months following divorce. Many women have trouble maintaining private health insurance coverage because they no longer qualify as dependents under their husbands' policies or have difficulty paying premiums for other sources of private health insurance. And despite the financial hardship divorced women often experience, many do not qualify for Medicaid or other public health insurance.
Women insured as dependents on their husbands' employer-based health insurance policies are particularly vulnerable to loss of coverage after divorce. Nearly one-quarter of them are uninsured six months after divorce.
Women who have their own employer-based coverage are less likely than other women to lose coverage (11 percent versus 17 percent), but they are not completely immune from loss of coverage because financial losses related to the divorce may reduce their ability to meet ordinary expenses, including their share of employee-sponsored health insurance.
Here is a link to the abstract of the study.
The study also found that full-time work and education are important buffers protecting women from losing health insurance after divorce. But since many women work part-time or in jobs that don't provide health insurance coverage, the protective effects of employment are not universal.
"The current health care and insurance system in the U.S. is inadequate for a population in which multiple marital and job changes over the life course are not uncommon," Lavelle said. "It remains to be seen how effective the Affordable Care Act will be in remedying the problem of health insurance loss after divorce, but the law has provisions that may help substantially."
What You Should Do if Your Health Insurance Might End as a Result of a Divorce?
Typically, health insurance coverage will end in 30 days after filing the divorce decree for the spouse that is being covered as a dependent. But most may be eligible for continued health insurance coverage in most employers' plans under The Consolidated Omnibus Budget Reconciliation Act of 1985, better known as COBRA.
The COBRA law contains provisions giving certain former employees, retirees, spouses, former spouses, and dependent children the right to temporary continuation of health insurance coverage at group rates. Employers with 20 or more employees are usually required to offer COBRA coverage and to notify their employees of the availability of such coverage. COBRA applies to plans maintained by private-sector employers and sponsored by most state and local governments. But COBRA coverage is only temporary and lasts up to 36 months, so you should explore options to secure new health insurance coverage as soon as possible. Before divorce negotiations are concluded be sure to find out what the monthly premium will be for the COBRA coverage. Factor that expense into your budget and the spousal support negotiations.  For more information on COBRA coverage click here to read about it on the United States Department of Labor website.
© 2013, Ohio Family Law Blog. All rights reserved. This feed is for personal, non-commercial use only. The use of this feed on other websites breaches copyright. If this content is not in your news reader, it makes the page you are viewing an infringement of the copyright.

About The Author: Robert L. Mues
Robert Mues is the managing partner of Dayton, Ohio, law firm, Holzfaster, Cecil, McKnight & Mues, and has received the highest rating from the Martindale-Hubbell Peer Review for Ethical Standards and Legal Ability. Mr. Mues is also a founding member of the "International Academy of Attorneys for Divorce over 50" blog.
Health Insurance: Divorce Often Ends Coverage for Women