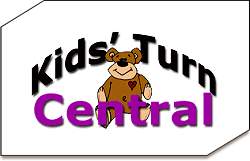 I am constantly scouring the web to find valuable information to post here. I was pleased to recently find an excellent website geared towards children's issues. Kids' Turn Central was a new find for me, but probably not for many parents and teachers. Wendy Hogan has cleverly integrated a plethora of diverse material, games and activities that are fun, safe and educational for children, including some cool "clipart", into the website. She launched Kids' Turn Central in September of 2001.
The page that I wanted to bring to your attention lists numerous books, child rights organizations, and other resources focused on children of divorce. With Wendy's permission, below is a sample of its content. It is worth your time to check her website out thoroughly! I'll bet that you will find material that will be both beneficial and fun, too!
It's a fact. Every year millions of kids must go through parents divorcing.
If your parents are happily married you probably have at least one friend who has divorced parents.
The resources below are meant to assist both kids going through divorce – and kids who want to help understand what a friend might be going through.
Divorce Sites for Kids – Just the Facts
Dealing with Emotions – Personal Stories
Programs – Books/Products
Help for your Family – Express Yourself
Source: Kids Turn Central
© 2010, Ohio Family Law Blog. All rights reserved. This feed is for personal, non-commercial use only. The use of this feed on other websites breaches copyright. If this content is not in your news reader, it makes the page you are viewing an infringement of the copyright.

About The Author: Robert L. Mues
Robert Mues is the managing partner of Dayton, Ohio, law firm, Holzfaster, Cecil, McKnight & Mues, and has received the highest rating from the Martindale-Hubbell Peer Review for Ethical Standards and Legal Ability. Mr. Mues is also a founding member of the "International Academy of Attorneys for Divorce over 50" blog.
Concerned About How Your Children are Coping? Here is a Valuable Resource!