Recent Spike In Divorce Rates Tied To Economy Study Suggests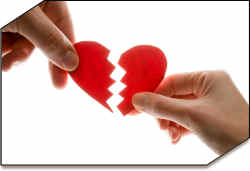 Interestingly, while the total number of new cases filed in Ohio in 2012 hit a 10-year low, the same cannot be said about divorce actions.  Ohio has seen a recent spike in divorce after a steady decline for the past decade.  To get a better grasp on why this is occurring, we must first look at the statistics of divorce in the Greater Dayton Area and Ohio in general.
In Montgomery County, according to the Ohio Department of Public Health, the 2010 divorce rate was 65.2 per 100 marriages. The 2009 rate was 60 per 100, and the 2008 was 53.5 per 100.
Comparing Montgomery County to the rest of Ohio in 2010, Montgomery County had a rate of nearly 10 marriages per 100 higher that ended in divorce. (Ohio's 2010 rate was just over 50 per 100).
A recent divorce study found that nationwide, divorces often increase with the economy.  Meaning the better the economy the more divorces we see.  This is often associated with the expenses that a divorce can cost, illustrating that couples often hold on through a rough financial time until they're able to split.  Once the economy begins to recover, people tend to take their unhappy relationships and higher income and move on.
The divorce study showed that during the recession period (2009-2011) there were nearly 150,000 fewer divorces that occurred than expected.  Also listed in the article is a showing that in 2008-2009 nationwide the divorce rate dropped in married women from 2.9% to 1.95%, but increased in 2010-2011 back to 1.98% showing that a possible rebound for divorce may be in the future.
Another increase in divorce rates has come from the baby-boomer generation (50+).  A recent article published on Ohio.com quotes a Bowling Green University divorce study that shows, while divorce in general decreased over the past 3 generations, divorce among 50+ year-old couples has more than doubled over the past three decades; and it's expected to rise even more.
This increase can be attributed to many things, including longer life expectancy, kids moving out of the house, and the changing norms in society.
Loralea Allen, a counselor in Kent, OH believes that this is because "Traditional views and expectations of marriage and family have changed, due in large part to more education and employment opportunities for women."  This increase in feminism in society is empowering more women to make the leap and choose to get a divorce for themselves.
Another implication of the increased divorce rate could be due to the multiple avenues there are to find new partners, and the increased globalization of our society.  It's estimated that there are currently 2,500+ dating sites in the United States and over 5,000 worldwide, making finding a new partner not as strenuous and stressful as before.  No longer do individuals need to visit bars or find partners in actual life situations.  Now they can simply, even while married, log onto the internet, set up a profile, and find a compatible match somewhere near them.
Divorce Rates Conclusion: Changing Society
Divorce rates may also increase due to the equal marriage movement.  This is not because these individuals are prone to divorce more than any other marriage, just simply due to the increase in marriages in general.  It's an easy correlation to find that more marriages will also result in more divorces.
These increases in technology, coupled with the economic recovery and changing of our society's norms, could very well lead to a larger increase in divorce rates in Ohio and the United States for years to come.
© 2014, Ohio Family Law Blog. All rights reserved. This feed is for personal, non-commercial use only. The use of this feed on other websites breaches copyright. If this content is not in your news reader, it makes the page you are viewing an infringement of the copyright.

About The Author: Robert L. Mues
Robert Mues is the managing partner of Dayton, Ohio, law firm, Holzfaster, Cecil, McKnight & Mues, and has received the highest rating from the Martindale-Hubbell Peer Review for Ethical Standards and Legal Ability. Mr. Mues is also a founding member of the "International Academy of Attorneys for Divorce over 50" blog.
Divorce Rates on the Climb as the Economy Recovers