Will Serving Divorce Papers Via Facebook be Allowed in Ohio?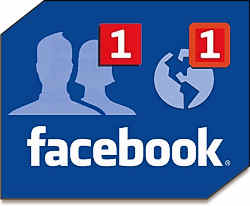 Justice Matthew Cooper of the Manhattan, New York, Supreme Court is setting precedent which is likely to be a game-changer should the rest of the country follow suit.
In a recent decision, Justice Cooper gave Ellanora Baidoo the green light to serve her elusive husband, Victor Sena Blood-Dzraku, divorce papers through his Facebook account.
The couple, both from Ghana, were married in a civil ceremony in 2009.  Shortly thereafter, the relationship began to unravel when Blood-Dzraku refused to fulfill his promise of participating in a traditional Ghanaian wedding ceremony.  As a result, the couple parted ways and only remained in contact via social media and the occasional phone call.  Nevertheless, Blood-Dzraku apparently does not want a divorce as every attempt to find him has failed.
Baidoo's attorney, Andrew Spinnell, explained that Blood-Dzraku is nowhere to be found.  The last known address for him was vacated in 2011, the post office has no forwarding address for him, no billing address linked to his prepaid cell phone exists, the Department of Motor Vehicles has no record of him, and even efforts by a private investigator hired to find him have failed. In his opinion, Justice Cooper wrote that Baidoo, "has spoken with defendant by telephone on occasion and he has told her that he has no fixed address and no place of employment.  He has also refused to make himself available to be served with divorce papers."
Divorce Summons Sent Using Private Message On Facebook
Therefore, the court granted Baidoo permission to serve Blood-Dzraku the divorce summons using a private message on Facebook.  The court instructed that the transmittal shall be repeated by plaintiff's attorney, once a week for three consecutive weeks or until the divorce summons is acknowledged. The first message was sent out last week, but Blood-Dzraku has yet to respond.  It should be noted that alternative methods of service of process, such as by email, are allowed and common in New York.
Facebook Could Be One Of Many Social Media Sites Used To Locate Spouse And Serve Divorce Papers
This landmark decision could set important precedent for divorce cases in New York, and potentially other states, should they choose to adopt similar rules.  Click here to read this very interesting court decision. The days of having to actually track down a party to serve them in person may be a thing of the past.  With new advances in technology arising every day, it is not hard to envision a world where legal documents such as Divorce papers are served via social media sites, especially if developments such as a "read receipt" are made to ensure the person actually receives the divorce items being sent.  There is a lesson here – if you are trying to avoid a divorce, perhaps you shouldn't "friend" your estranged spouse on Facebook!
© 2015, Ohio Family Law Blog. All rights reserved. This feed is for personal, non-commercial use only. The use of this feed on other websites breaches copyright. If this content is not in your news reader, it makes the page you are viewing an infringement of the copyright.

About The Author: Robert L. Mues
Robert Mues is the managing partner of Dayton, Ohio, law firm, Holzfaster, Cecil, McKnight & Mues, and has received the highest rating from the Martindale-Hubbell Peer Review for Ethical Standards and Legal Ability. Mr. Mues is also a founding member of the "International Academy of Attorneys for Divorce over 50" blog. Mr. Mues has also been a dog owner for 55+ years, and just recently, he and his wife are the owners of "Ralph", a rescued mixed Wire Hair and Jack Russell Terrier.
Divorce: Spouse Missing? Send Summons On Facebook!