Increasing Number of Grandparents Becoming Custodial Grandparents to their Grandchildren
Custodial Grandparents Have Higher Stress Levels than Grandparents Who Are not Caregivers of their Grandchildren According to Recent Studies
What children need most are the essentials that grandparents provide in abundance.  They give unconditional love, kindness, patience, humor, comfort, lessons in life.  And, most importantly, cookies.
~ Former New York City Mayor Rudy Giuliani.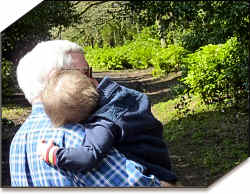 I believe Mayor Giuliani's wonderful quote about grandparents resonates in most of our hearts when we think of our own grandparents.  However, in today's society we are seeing an increasing number of grandparents becoming custodial grandparents to their grandchildren.  Custodial grandparent or grandparents are best defined as grandparents who take over as the primary caretaker to their grandchildren.  Collectively, custodial grandparents often face a number of different and unique difficulties associated with the caring of their grandchildren, when compared to the traditional nuclear family structure of two birth parents raising and caring for their children. Some of these difficulties include increase of stress in their day-to-day lives, financial struggles due to fixed incomes, and health related limitations as custodial grandparents are usually at a different stage in life when caring for the children.  This article will discuss these various obstacles custodial grandparents face when taking on the responsibility of raising their grandchildren.
According to recent studies, custodial grandparents tend to have higher stress levels than grandparents who are not the primary caregivers of their grandchildren.  This high level of stress is believed to be attributed to a number of different factors.  While there are normal stressors associated with parenting and raising children, custodial grandparents take on the normal stressors of parenting along with the stress of custody battles.  Typically, grandparents become the legal custodian of their grandchildren, when the court determines that the birth parents are unfit and/or unable to raise their children.
In order for grandparents to become legal custodians, they must first fight through complex courtroom proceedings which can be very difficult for grandparents wishing to become legal custodians to understand and navigate.  Even if the grandparents are awarded legal custody of their grandchildren, they continue to face legal battles from both the birthparents and other family members who wish to retain legal custody of the grandchildren.  Not only is this process brutal on the custodial grandparents, it is just as brutal on the children involved.   More often than not, these children are already exhibiting behavioral issues from the trauma and hardships they were exposed to living while living with their unfit birthparents.  Putting the stress of the legal process together with the stress of caring for children with developed behavioral issues, it is easy to understand why custodial grandparents have higher levels of stress and anxiety in their day-to-day lives.  In other cases, custodial grandparents have been diagnosed with depression.
Another stress factor that custodial grandparents are prone to face are the financial burdens associated with raising their grandchildren.  In a 2004 Australian study, it was determined that grandparent-led households were substantially more likely to face financial hardships than other households.  Moreover, the annual income for grandparent-led households was significantly less than in households where birthparents were the primary caregivers of their children.  Because grandparents are commonly living on a fixed income and are no longer working full-time, most of their income is received from pension benefits and/or retirement accounts or from the government.  Custody battles, as discussed above, can be very costly and may also increase the financial burden of caring for and providing for the grandchildren.
Custodial grandparents may also face health related issues when caring for their grandchildren.  The physical disadvantages experienced by custodial grandparents are generally linked to the custodial grandparents' older age, in comparison to other groups who are caring for children.  Typically, grandparents do not have as much energy and can suffer from physical exhaustion.  In addition to physical exhaustion, custodial grandparents may also suffer from other age-related problems such as arthritis and high blood pressure.  Because parenting is a very demanding job, a custodial grandparent's declining health can play a role in their ability to parent effectively.
Grandparents undertaking this responsibility should be revered.  Regardless of "why" they chose to do it, they are providing the children and society with a huge benefit!   To read more about this subject, Rebekah Dooley published an excellent article on March 6, 2015, in the Journal of Family Studies titled, "Grandparents Raising Grandchildren: Investigating Factors Associated with Distress Among Custodial Grandparents." Click here to read it.
For additional resources for custodial grandparents, please visit the website provided by the American Association for Marriage and Family Therapy.  You can access it by clicking here.
© 2015, Ohio Family Law Blog. All rights reserved. This feed is for personal, non-commercial use only. The use of this feed on other websites breaches copyright. If this content is not in your news reader, it makes the page you are viewing an infringement of the copyright.

About The Author: Thomas G. Kopacz
Thomas Kopacz is an associate attorney with Dayton, Ohio, lawfirm, Holzfaster, Cecil, McKnight & Mues and the managing editor of the Ohio Criminal Defense Law Blog. He is also a member of the Association of Ohio Criminal Defense Lawyers.
Custodial Grandparents: Stress From Raising Grandchildren