Dayton Ohio Divorce & Family Law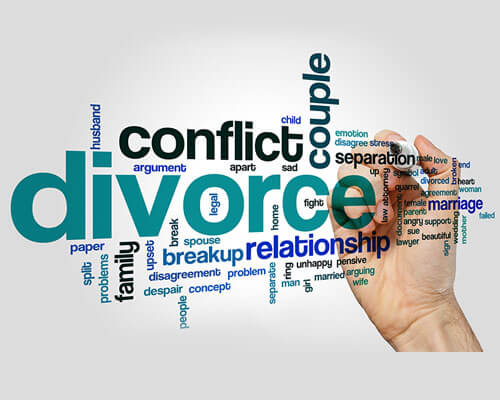 Our Dayton Ohio Attorneys have extensive experience helping families navigate the turbulent waters of divorce in Southwest Ohio. If you're looking for Ohio divorce attorneys with a long history of helping clients in the diverse areas of Ohio Family Law, look no further. If you're contemplating or involved with a divorce, it is extremely important to select an attorney and law firm that is well versed in Ohio Family Law matters. The attorneys at the law firm of Holzfaster, Cecil, McKnight & Mues, LPA have been helping clients with Southwest Ohio divorces for over 75 years. Our lawyers regularly litigate cases throughout Southwest Ohio including Montgomery, Greene, Clark, Warren and Miami Counties.
Ohio divorce matters include a very diverse range of topics. Included would be everything from helping negotiate dissolutions of marriages, divorces, legal separations, and of course, dealing with child custody and parenting issues. We are also actively involved in dealing with Post-Decree matters involving contempt of a party violating a term of the Court Order as well as modifications of child support and parenting time. Our lawyers are experienced in dealing with military family law issues inasmuch as we are located near Wright Patterson Air Force Base. Most of the military cases are filed in Greene and Montgomery Counties, in Courts where our attorneys appear regularly.
As Ohio Divorce Attorneys, we are often representing individuals involved in domestic violence and civil protection order proceedings. Domestic violence is a very serious issue and can have profound implications on individuals and their children.
In addition, our firm is one of the few law firms in Ohio with attorneys that have experience litigating international custody and Hague Convention cases. These Federal Court cases are often extremely complex. As Ohio Family Law Attorneys, we also represent individuals in adoption proceedings in Probate Court. Those adoptions may involve a step-parent adoption or adoptions of a child to a third party. We also have the expertise to assist individuals looking for a prenuptial agreement before getting married. These contracts can be very valuable to cap exposure in the event of a future Ohio divorce or to eliminate a surviving spouse's rights in the event of the death of one party.
On this page below, we have provided links for you to learn more about Ohio divorce and Ohio Family Law matters.
We can help you sort through your options to determine the best approach for your circumstances and to accomplish your objectives. To read more about the various Ohio Family Law topics and Ohio divorce issues, please visit the Ohio Family Law Blog, which we publish.
Divorce Practice Areas
Ohio Divorce Attorneys
An Ohio divorce can be very confusing, but aggressive and experienced family law lawyers will guide you every step of the way and answer all of your questions.
Ohio Dissolution
An dissolution proceeding involves both careful negotiations and the preparation of well-drafted Court pleadings. Our Southwest Ohio lawyers are skilled in handling these dissolution matters.
Ohio Legal Separations
An Ohio Legal Separation is a unique proceeding that results in the two individuals still remaining married but living separate lives, usually for financial, religious or other personal reasons. Our lawyers have the wisdom and experience to guide you through your legal separation.
Ohio Child Custody Litigation
Because so much is at stake, child custody cases are some of the most hard fought and emotional types of cases we handle. Our lawyers have the experience and track record you are seeking.
Ohio Contempt and Post-Decree Matters
If you need to pursue contempt charges against your "ex", defend a Contempt charge against yourself, or return to Court to address some Post-Decree issue such as child support or visitation, our skilled family law attorneys will help you solve your contempt or Post-Decree problem.
Ohio Modification of Support and Court Orders
Ohio Modification of Support and Court Orders can happen depending on the language in the Court Order whenever there is a substantial change of circumstances. Our knowledgeable and skilled lawyers are able to help you with these issues.
Ohio Prenuptial Agreements
Prenuptial Agreements aren't just for the "Rich and Famous" anymore. Our experienced prenuptial agreement attorneys work to protect you and keep your pre-marriage assets and belongings safe and sound.
Ohio Military Family Law Issues
Service members and their spouses face unique realities in everything from periodic reassignments, to deployments, to even the way that Courts handle their unique Military Family Law issues. Our experienced Military Family Law Attorneys will answer your questions and help guide you through your situation.
Ohio Relocation Proceedings
Did you know that unless a custodial parent obtains the Court's permission to relocate with a child outside the State of Ohio before moving that they face being charged with Contempt of Court? Our Ohio Relocation Proceedings Attorneys will help lead you every step of the way and answer all your questions.
Ohio Domestic Violence and Civil Protection Order Cases
Ohio Domestic Violence cases, especially ones involving Civil Protection Orders between family members, take an experienced and skilled attorney to handle properly. Our Ohio lawyers can help guide you through one of the most stressful situations you can face.
Ohio International Custody and Hague Convention Cases
International Custody and Hague Convention Cases that originate in Ohio can become complex and costly. They demand immediate action to defend or pursue. Our International Custody and Hague Convention Attorneys possess the skill and the experience in handling these specialized situations.
Ohio Adoptions
An Adoption is one of the happiest legal events that a family can experience. Contact one of our experienced Ohio lawyers to make sure your Ohio Adoption process is handled correctly and without any delays.
Ohio Mediations
We encourage our clients to consider alternative dispute resolution efforts including Ohio Mediations because it allows them to decide outcomes for themselves. Our mediation attorneys understand this reality and work with clients throughout the mediation process.
Contact us now for all your Ohio Divorce needs!
If you're considering an Ohio divorce or have Ohio Family Law questions, don't hesitate to contact us (937) 293-2141 or email our Ohio divorce attorneys. There is also a Quick Contact form to contact us for an appointment. Additionally, we have an emergency phone number (937) 760-4357 that is answered by one of our Ohio Divorce Attorneys around-the-clock.
Ohio divorce is stressful enough, don't let the legal concerns drag you down even further.