Personal Injury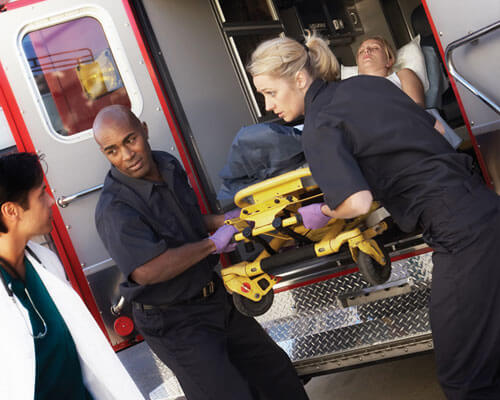 Our Dayton Ohio Personal Injury Attorneys have extensive experience helping families who have sustained an Ohio Personal Injury. At Holzfaster, Cecil, McKnight & Mues, our Ohio Attorneys have a long history of helping clients obtain fair compensation in their personal injury matters. People, unfortunately, are injured or die in automobile, motorcycle or other vehicle collisions every day. Often these injuries should never have occurred – often they happen because of someone else's negligence, carelessness or as a result of some other form of wrongdoing.
Our Ohio Attorneys are very experienced in representing individuals who have been injured or killed as a result of someone else's fault. If you've been the victim of an Ohio Personal Injury, don't try to traverse this path alone. Ultimately, you will be dealing with an insurance adjuster whose sole purpose is to settle your claim as quickly as possible and to pay you as little compensation as possible. Don't be deluded into believing that the insurance adjuster will treat you fairly or will adjust the matter by paying you a nickel more than they can. Our Ohio Attorneys are experienced in negotiating personal injury matters with insurance companies and their representatives.
There are many types of injury actions our attorneys handle. Those include vehicle accidents such as auto accidents, motorcycle accidents and truck accidents. Sometimes the injuries unfortunately end up as fatalities and our Dayton Ohio Attorneys will initiate and aggressively litigate wrongful death proceedings on behalf of the family and next of kin.
In addition to the vehicle accidents, all too often people are injured by dogs or other animals which attack them. These dog bite cases or animal attack matters are handled by our Ohio Attorneys throughout southwestern Ohio including Montgomery, Greene, Warren, Miami and Clark counties.
Another sub-category of Ohio Personal Injury matters are claims against medical providers for their negligence. All too often, doctors, hospitals or other healthcare providers may, for one reason or another, fall below acceptable medical standards and cause injury or death to their patient(s). Our team of aggressive Ohio Attorneys will investigate your case and help you navigate through the maze that insurance companies and their attorneys will orchestrate.
Unfortunately, in Ohio and all throughout the United States, our seniors and older family members are often subjected to nursing home neglect and abuse. Throughout our 70 plus year history we have successfully handled many of these cases and have assembled resources and experts to assist our Ohio Attorneys in aggressively litigating nursing home neglect and abuse cases to conclusion.
Individuals who are treating with psychologists, counselors or therapists can be vulnerable to unprofessional providers who prey on vulnerable patients. We have handled these matters which involve ethical violations including therapists having sexual relations with patients or ignoring appropriate boundaries with their patients as well as other types of misfeasance that has resulted in serious injury, suicide, or the patient's death.
Below we have provided links for you to learn more about Ohio Personal Injury matters.
Our attorneys can help you sort through your options to determine the best approach for your circumstances and to accomplish your objectives. If you've been a victim of a personal injury, be sure to check out our FAQ section dealing with auto accident, personal injury and wrongful death by clicking here.
Contact us now for Assistance with all your Ohio Personal Injury issues!
If you have questions about an injury, auto accident or similar matter, don't hesitate to contact us at (937) 293-2141 or email us. There is also a Quick Contact form on the right side of this page. Additionally, we have an emergency phone number (937) 760-4357 that is answered by one of our Ohio Personal Injury Attorneys around the clock.
Ohio Auto Accidents
If you or a loved one has been the victim of someone else's negligent driving, our Ohio Auto Accident Attorneys have the experience and skill to make sure you receive reimbursement for not just your property damage and medical bills, but the maximum compensation for all of your pain and suffering, as well. Read more about Ohio Auto Accidents.
Ohio Motorcycle Accidents
Some automobile drivers seemingly operate carelessly, making little effort to see motorcyclists around them. Our Ohio Lawyers will make sure that injured Ohio cyclist's rights are fully protected! Read more about Ohio Motorcycle Accidents.
Ohio Truck Accidents
When semi-truck drivers are negligent, their mistakes usually mean that other drivers end up severely injured, or worse. Our Ohio Lawyers have the knowledge and skills to properly pursue a Personal Injury or Wrongful Death case against the companies that hire dangerous drivers. Read more about Ohio Truck Accidents.
Ohio Wrongful Death Cases
If your family has sustained the loss of a loved one in an accident due to the negligence of another, our Ohio Auto Accident Lawyers will protect your legal rights! Read more about Ohio Wrongful Death Cases.
Ohio Dog Bites/Animal Attacks
Even animal lovers can be the victim of a vicious Dog Bite or other Animal Attack. If you or a family member have received a Dog Bite or been the victim of some other Animal Attack, let our Ohio Lawyers put their experience and knowledge to work for you. Read more about Ohio Dog Bites/Animal Attacks.
Ohio Medical Malpractice
When doctors, nurses, or hospitals commit an act of Medical Malpractice that injures you or a loved one, that negligence must be acted upon. Our Medical Malpractice Attorneys will protect you or your loved one by aggressively seeking to right any actionable wrong that has occurred at the hand of any healthcare professional. Read more about Ohio Medical Malpractice.
Ohio Therapy or Counseling Malpractice
It is despicable when mental health professionals unscrupulously take advantage of their patients and commit malpractice. Our Ohio Lawyers will analyze the facts of your case and pursue your claim to conclusion. Read more about Ohio Therapy or Counseling Malpractice.
Ohio Nursing Home Neglect and Abuse
It is horrible when our loved ones are neglected or abused in Dayton area nursing homes. That is why you should contact one of our skilled Ohio Nursing Home Neglect and Abuse Attorneys if you believe that your loved one has been a victim of Nursing Home Neglect or Abuse. Read more about Ohio Nursing Home Neglect and Abuse.