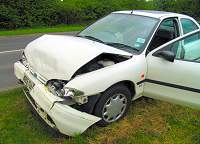 You may not be aware that, years after you have prepared a separation agreement, it may have a direct bearing on whether your clients are covered under their auto or homeowners' insurance policies in a variety of accident scenarios.
Here's a typical scenario. Months or years after Mom and Dad are divorced, one of them hands the car keys to "Junior," who negligently wrecks the car and injures another motorist. One or both parents, thinking that Junior is covered under their auto policy, turn the claim into their insurer, only to be shocked that the insurance company denies the claim.
There are two principal reasons why the claim might be denied: Junior is not a "named insured" or a "resident relative" under the policy. If the denial holds water, Junior and perhaps his parents may be exposed to personal liability, and the distinct prospect of bankruptcy. The question is: Is there anything the divorce attorney can do to ensure or increase the likelihood that minor children will be covered in a future accident under one or both parents' insurance policies?
This accident scenario has been frequently litigated. Courts examining this issue have focused on what constitutes "residing" with a particular parent for purposes of satisfying the "resident relative" requirement of the insurance policy. One factor courts will examine is the language of the divorce or dissolution decree or separation agreement. For example, if the agreement provides that the minor "alternately resides with each parent under a custody or visitation arrangement," it may carry persuasive weight as to whether the minor was a resident of one or both homes.
In situations where the insurance policy did not define the term "resident," courts have also considered an ordinary definition of that term as "one who lives in the home of the named insured for a period of time of some duration of regularity, although not necessarily permanently, but excludes a temporary or transient visitor." Indeed, under this definition, courts have recognized that the concept of a minor's "dual residency" is a frequent reality in shared parenting plans (especially for school purposes).
It is not uncommon these days, with flexible parenting agreements for a child to have access to both parents' vehicles in their separate homes. The divorce attorney is, therefore, in the unique position to take some simple steps to ensure potential coverage for future accidents. Obviously, one step is to make explicit in any written agreement that the minor will be considered a resident of both homes.
Secondly, due diligence might dictate that the attorney apprise his/her clients of the possibility that minors might not be covered for any future accidents, and advise them to contact their insurance agent about adding the minor as a named insured under the policy.
Insurance coverage issues like these constitute a unique intersection of domestic relations and personal injury law. Unfortunately, minors causing accidents and coverage disputes are a recurring scenario, given the frequency of divorce, and the propensity of inexperienced minor drivers to cause accidents (we need only look at our insurance premiums as evidence of this fact). They can also burden families with dire financial consequences if it is determined that there is no insurance coverage for the harm caused by the minor driver.
But with a little foresight and advance planning, you just might be able to protect your clients by ensuring that their insurance policy will protect them if "Junior" makes a driving mistake. If that happens, your clients will no doubt appreciate your good lawyering.
Brian R. Wilson is the publisher of Bull's-Eye Blog and author of two books, "How to Buy Car Insurance in Ohio to Protect Your Family" and "Your Ohio Accident . . . And How You Can Level the Playing Field."
© 2008 – 2018, Ohio Family Law Blog. All rights reserved. This feed is for personal, non-commercial use only. The use of this feed on other websites breaches copyright. If this content is not in your news reader, it makes the page you are viewing an infringement of the copyright.
About The Author: Guest Contributor, Attorney Brian R. Wilson, a partner in the Canton, Ohio, law firm of Nicodemo & Wilson, LLC.
Brian R. Wilson is the publisher of The Bull's-Eye Blog and the author of two books, "How to Buy Car Insurance in Ohio to Protect Your Family" and "Your Ohio Accident . . . And How You Can Level the Playing Field."
Divorce And Insurance Policies: What Divorce Attorneys Need To Know To Protect Their Clients