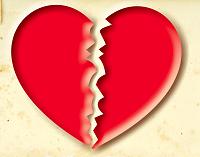 Valentine's Day is the start of the busy season for Dayton divorce lawyers.  Many couples wait until after the holidays and it gives them time to file their taxes "jointly" and receive a larger refund.  It also can be a reckoning day when people decide that they deserve better.
While romance abounds with cupid's magic for some, it also can be a difficult time for many divorced individuals who don't have a valentine to share it with.
Here are some tips from Jennifer McCarron and Eugene Kayser, licensed family therapists from Abington, Pennsylvania:
Ignore the holiday
Think about Valentine's Day like a holiday for a religion you do not celebrate.  Simply decide you are not participating in the activities typically associated with the day.
Do something special for yourself.
Go to a spa, take a walk or try any other activity that nourishes you. Kayser said, "showing love and regard for yourself can make you feel stronger". "You need to self nurture," he said. "You've lost something so you need to take the time to grieve it and take care of yourself."
Go out, but not where you typically find couples.
A trip to the bookstore or coffee shop are good alternatives to dinner at a restaurant. McCarron advises that activities can help distract you if you are coping with sadness or other difficult feelings. "I think definitely scheduling something in helps so you are not sitting alone in your head," she said.
Spend the day with family, friends or others you love.
Kayser and McCarron agree this is a good option as long as you surround yourself with people who support you. Avoiding people in partnerships that day also might be something to consider.
Seek activities with other single people.
Support groups, speed dating, a movie night or party at home with friends are some options, says McCarron.
If you have children, focus on them.
McCarron said you can still embrace the holiday by helping them with their Valentine's cards and remembering there are other kinds of love in life than romantic love.
Be mindful of Valentine's activities that trigger difficult feelings and avoid them.
If, for example, trading sentimental cards with your ex was a favorite activity, stay away from the card aisle around the holiday.But I have my own suggestion to offer for Valentine's Day by considering the situation from the opposite perspective.
Put aside your feelings and do something nice for someone else.
Why not volunteer to help with a Valentine's Day party at a nursing home, senior center, hospital or homeless shelter? Loneliness can be overwhelming for individuals in these types of facilities. A little human touch coupled with random acts of kindness can go a very long way in putting a smile on a person's face today or any day!
Remember that Valentine's Day, even after a divorce, doesn't have to be a gloomy or depressing day. Be creative in showing kindness to those around you. Bernard Meltzer, Dean of the University of Chicago Law School, said it well, "There is no better exercise for your heart than reaching down and helping to lift someone up!" I also love the quote from William James that Dr. Gregory Ramey used to conclude his recent article, Three things you can do to eliminate stress, posted here on January 31, 2009. James said that "The greatest discovery of my generation is that a human being can alter his life by altering his attitudes of mind." An inspiring observation for all of us to consider as we all go forward.
© 2009 – 2018, Ohio Family Law Blog. All rights reserved. This feed is for personal, non-commercial use only. The use of this feed on other websites breaches copyright. If this content is not in your news reader, it makes the page you are viewing an infringement of the copyright.

About The Author: Robert L. Mues
Robert Mues is the managing partner of Dayton, Ohio, law firm, Holzfaster, Cecil, McKnight & Mues, and has received the highest rating from the Martindale-Hubbell Peer Review for Ethical Standards and Legal Ability. Mr. Mues is also a founding member of the "International Academy of Attorneys for Divorce over 50" blog.