A Helpful Parenting Time Calculator Tool for Family Law Attorneys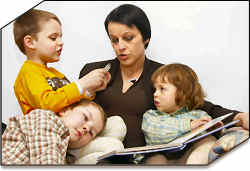 Any family law attorney, judge, or child custody expert will tell us that, except in unusual circumstances, during and following a divorce it is desirable for a child to have a strong relationship with both parents. It follows that the less contentious the divorce the better off are the children, the parents, and the department in charge of child support issues. Indeed, custody and support issues can unravel what might otherwise be an amicable divorce. One of the major problems that may arise after divorce is custodial interference with visitation. Many jurisdictions, including Ohio, have held that unreasonable interference with the noncustodial parent's parental rights can even be grounds for a change of custody.
According to Susan D. Stewart, in her study published in the Journal of Marriage and Family in October, 2010, one third of all children in the United States have a nonresident parent. Child custody is a term that defines the legal relationship between a child and a parent. Generally, there are two types of custody. "Physical custody" determines where the child lives. "Legal custody" describes which parent has the legal right to make important decisions for the child. If one parent does not have physical custody of the child, that parent may still be granted "frequent and meaningful" visitation. Many visitation schedules call for visits every other weekend, a night in the middle of the week, and alternate holidays.
Signed into law in January of 1975, the Social Services Amendments of 1974 created Title IV-D of the Social Security Act. The Child Support Enforcement Program (CSE) is a Federal/State/Tribal/local partnership whose purpose is to help families by promoting family self-sufficiency and child well-being. The law places primary responsibility for operating child support enforcement programs on the States (or other local jurisdiction). Each state must have an approved plan indicating that, among things, it will cooperate with any other state in locating an absent parent, establishing paternity, and securing support, and will maintain a record of collections and disbursements made under the plan. In most states the IV-D agency is the Department of Human Services or the Attorney General's office.
Oregon's Helpful Parenting Time Calculator
In Oregon, the Oregon Department of Justice, Oregon Child Support Program, has devised a free, on-line, useful tool which helps ensure a smooth custody and support transition. Covering a two-year time period to allow for alternate holiday and vacation scheduling, the Parenting Time Calculator is a tool for families and child support professionals to find out the average time a child is spending with each parent and to help create a parenting plan.
The real advantage of this Parenting Time Calculator tool is that once the agreed upon data is entered, the calculator provides the parents, court, attorneys, and state jurisdiction with the exact number of nights and percentage of time the child has spent with each parent – no more need for estimating or guessing. Printing out the two-year calendar allows everyone to have an accurate record of past and future visits and should mean less money and time spent on lawyers and in court. In addition, this document becomes one piece of clear evidence in determining whether, in fact, a substantial and material change has occurred in circumstances since the divorce and custody decree was entered.
Various program and psychological approaches have been offered to help high-intensity divorcing parents and families. An excellent resource is Integrative Family Therapy for High-Conflict Divorce with Disputes Over Child Custody and Visitation, Family Process 46(1), 79-91 by Lebow & Rekart, 2007. Family law attorneys, child support enforcement agencies, and the courts certainly cannot guarantee that custody and visitation agreements will be problem-free. But in appropriate cases, they can help to prevent the deterioration of a child's relationship with his/her divorced parents by advocating the use of Oregon's Parenting Time Calculator.
About the Author:

Daniel Pollack is a professor at Yeshiva University's School of Social Work in New York City and a frequent expert witness in child welfare cases. He can be reached at dpollack@yu.edu. A slightly modified version of this article originally appeared in Policy & Practice, 69(6), 34.
© 2012, Ohio Family Law Blog. All rights reserved. This feed is for personal, non-commercial use only. The use of this feed on other websites breaches copyright. If this content is not in your news reader, it makes the page you are viewing an infringement of the copyright.

About The Author: Guest Contributor, Daniel Pollack
Daniel Pollack, MSW, Esq. is professor at Yeshiva University's School of Social Work and a frequent expert witness in child welfare lawsuits. Contact: Email: dpollack@yu.edu Ph: 212-960-0836.
Parenting Time Calculator