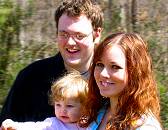 Parents contribute significantly to kids' happiness, but having children generally results in less happiness for couples, according to research summarized in "Gross National Happiness" by Arthur Brooks.
It may be a bit surprising to some that parents are very important to their children. One would think that in a materialistic culture, kids would feel happier with the latest iPhone and video games. However, young adults in the age range of 13-24 report that spending time with their family is the most important factor leading to their happiness. Seventy-five percent of young adults say their relationship with their parents makes them happy.
For these young people, the things that make them happy are the same things that make most of us happy: social relationships. Having meaningful, honest and rewarding relationships with family and friends are more important than anything else.
We may enjoy things, but we find meaning and happiness in being around people who really matter to us.
The research on couples with children is a bit more perplexing. Brooks reports that after such variables as age, income, gender, race and politics are considered, a "parent would be about seven percentage points less likely to report being very happy" than a childless couple.
Perhaps these results are really not so surprising. Raising children is often difficult and stressful. There is so much worry and work involved with parenting kids of any age. Children need our time, energy, money and resources. Most of all, they need our attention. With so much focus on our kids, what time is left for parents to pursue their dreams and desires? What about our relationship with our spouse? Most parents are more concerned with just getting through the day rather than reflecting upon the meaning of their lives.
If childless couples are happier than parents, then why do people continue to have children?
In western European countries such as Spain and Italy, the birth rate has decreased substantially. However, in most other countries including the United States, couples continue to feel that children are an important part of their lives.
Perhaps couples have children for bad reasons. Some people feel that children may help improve a bad marriage. Others may look to children to satisfy some void in their lives. I suspect that most people have kids because that is just what most married couples do. Having children is less of a thoughtful decision and more of an automatic cultural response.
Raising children is certainly not a guarantee of happiness, but it does give a sense of meaning to the lives of most people.
There is no relationship that can ever replace the unconditional love between a parent and child. While friends can be fleeting, there is nothing my children can ever do that would cause me to give up on them. We are connected forever. That love gives my life meaning beyond the delights and drudgery of my everyday life.
This doesn't mean that only couples with children can lead meaningful lives. Perhaps the real significance of this research is that children both contribute to and detract from living a happy existence. The key is to be sure that couples have children for the right reasons, and fully appreciate both the risks and rewards of raising kids. Children just seem to make life a bit more extreme. The bad times are certainly very tough, but rewards are also intensely satisfying.
I know there are times that I may not be as happy as people with more money, more freedom and less worry. Perhaps I've blocked out some of the very difficult times I've had with my kids, but nothing even comes close to the intense rewards I've received as a dad to three very special people!
[Reprinted by permission from the Aug. 31 edition of the Dayton Daily News, "Kids bring happiness, right? Not always", Family Wise, Gregory Ramey, PH.D.]
© 2008 – 2009, Ohio Family Law Blog. All rights reserved. This feed is for personal, non-commercial use only. The use of this feed on other websites breaches copyright. If this content is not in your news reader, it makes the page you are viewing an infringement of the copyright.

About The Author: Guest Contributor Gregory Ramey, PhD, Child Psychologist and Dayton Daily News Columnist
Gregory Ramey, PhD, is a nationally recognized child psychologist and columnist who has worked at Dayton Children's Hospital since 1979. In addition to his weekly column in the Dayton Daily News about effective parenting, Ramey has conducted more than 200 workshops and has recently been quoted in articles in Redbook, Parenting, Ladies Home Journal as well as columns distributed by the New York Times Wire Service.
Kids bring happiness, right? Not always